.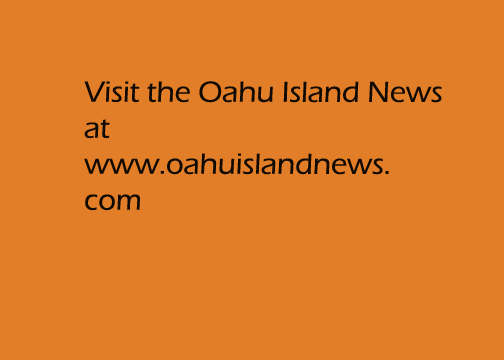 Hula Dancer, Radasha Leialoha Hoohuli
Keeping Hawaii's Culture Alive & Well
By: Kathryn Drury
Oahu Island News
You would think that dancing the hula for busloads of tourists night after night could be pretty unpleasant. To your right there's the sunburned group from Indianapolis, all in matching aloha shirts, three mai tais to the wind and unable to clap on rhythm. Then there are the baby-faced newlyweds – and there are plenty of them – just married yesterday and too busy gazing adoringly at each other to pay attention to your performance. Oh, and over there, the ancient Floridians face-down in the kalua pig. It's just a sea of expressions staring up at you, not understanding or appreciating your culture and all the years you have been training, right? At least that's what I had thought. But I had it all wrong.
Radasha Leialoha Hoohuli, a featured hula dancer who uses her middle name while performing, is 23 years old. She has spent the past five-and-a-half years working at Paradise Cove Luau, located at the Ko Olina resort on the leeward coast of Oahu. A 1997 graduate of Kamehameha Schools, she started working at the luau right after high school. It's hard not to fall right in love with her – she's stunning, with a huge smile, and nice in every way. But despite her current polished image, she confesses, "I used to walk around with my shoulders rounded. I had low self-esteem," she says. "My parents are very proud of me dancing here because I used to slouch. Now I stand up straight. It's me growing out of my shell."
Her transformation has been largely linked to her work at the luau, where she has blossomed under the wing of entertainment director O'Brien Eselu. It is he who produces and directs the revue, who choreographs new shows, and who runs rehearsals (sometimes running to midnight or later). He's an accomplished kumu hula; his dancers, the Ke Kai O Kahiki halau, have placed highly at competitions such as the Merrie Monarch Festival, held annually on the Big Island.
Radasha grew up dancing – "back-yard stuff" she says – because her aunt has a halau, the Keikilani Polynesian Revue. But she didn't get as serious about hula until she started working at the luau, which took her to a new level. It is the nuances that she has come to appreciate; the tiny variations in motion that make the whole difference in how you are telling the story. "I really love dancing," she continues. "Seeing the faces of the tourists pushes me to want to do better, and not just for me. So they can learn the culture."
At the luau, guests are encouraged to dip a toe into Hawaiian culture. They tour the grounds before dinner is served, learning games, listening to storytellers, watching as leis are crafted and quilting techniques shared. Some test out a temporary Polynesian tattoo or take an outrigger canoe for a quick spin in the lagoon. But do they get that Hawaii has a special culture, or are they just at the luau seeking open-bar daiquiris, a souvenir eight-by-ten photo and a novelty coconut bra?
Radasha puts to rest any misconceptions I had about working at a luau: that it might be frustrating or boring. On the contrary, she says. "You meet so many people, visitors from all over the world, people who have all different positions in society. I have learned to expect the unexpected. Working here really opened doors for me," she continues. "For example, I just happened to be dancing the night the Travel Channel came and filmed. Now I'm on (TV) all the time because they keep running it."
Other doors of opportunity have opened too; with O'Brien's encouragement and the confidence that comes from regularly performing in front of hundreds of people, Radasha began entering pageants. Currently Miss Ala Moana, and the year before that, Miss Island Oahu, she has for the past two years been a runner-up in the Miss Hawaii pageant, part of the Miss America Organization. She is a strong contender to compete again at this year's event, currently slated for June 13th at the Hilton Hawaiian Village. She has also participated in the Miss World program as the delegate from Hawaii. The pageants are, she points out, very helpful in terms of paying for her college education. "I have gotten over three years full-ride to Hawaii Pacific University," she explains.
Majoring in pre-med, Radasha's ultimate career goal is to become an optometrist, a profession she became intrigued with when she was only 12 years old. "When I first had to wear glasses and my mom took me to the doctor, I was so impressed with the optometrist, how careful he was, how he explained everything," she says." I thought, 'I think this is what I want to do!'" She's since graduated to contact lenses, which she always wears, lest she fall off the stage - "I'm a blind bat!"
Juggling her coursework, which this semester includes literature as well as science classes, she balances her dancing career, pageant participation, and life at home with her family. She has three siblings: a brother who plays football at the University of Hawaii and two sisters, one a banker and one a high-school cheerleader. But her bid for Miss Hawaii is more than a desire to wear a crown.
As she explains, "I come from this side of the island, which has a social stigma. I want to be a good example to the community." Her hometown, Nanakuli, on the Waianae Coast, has a higher percentage of Native Hawaiians and has been historically economically neglected when compared to other parts of the island.
Radasha also wants to lift up the idea of volunteerism. Like all contestants, she has a platform, a specific cause that she works to promote. Hers is encouraging volunteer work within communities, a calling she credits to her mother's example. "As a little child, my mother always took us to community events. We cleaned beaches; you name it, we cleaned it. It brought us closer and I inherited that sense of volunteerism."
A neighbor got her involved with Special Olympics, and she is now the youngest member of the Honolulu chapter of the Pilot Club, an organization that raises funds for people with brain disorders. She also participates in the Read Aloud America Program (RAAP). "I tell stories every other week at elementary schools. I think the program has so much potential. It's nice to see the kids in the school cafeteria, totally paying attention to the books. I'm amazed, they know the authors, the titles, and it's nice to see that children are interested in books." As part of RAAP, children also play games based on books, participate in book swaps and enter book giveaways. But Radasha says that as nice as the programs are, volunteering comes in many shapes and forms. She encourages, "Whatever someone can do. It doesn't have to be an official program - it's giving of your time, helping a neighbor."
While watching Radasha, and the other entertainers in action, I noticed a variety of styles being performed, from the slow and graceful "Hawaiian Wedding Song" to the hip-rattling Tahitian numbers to a bold Samoan fire wrangler. A featured dancer, Radasha seems to perform before the crowd of nearly 900 with complete ease. Her face is calm and joyful, her movements precise, and despite the numerous costume changes, even the one involving a headress the size of a small shrub, she never appears to have a hair out of place.
The entire show changes at the luau every two years, and will change again at the end of this summer. To learn the new choreography, the dancers rehearse after their evening performances, for two to three hours, and even up to five hours, she explains. Once the new program has been mastered, the cast will do brush-up rehearsals about once a month. "We're always rehearsing different things, finding ways to improve," she says, adding that because the cast rotates each evening, weekly staff meetings help keep everyone up to speed.
Earlier I had asked her if she has any advice for novice hula students, and she had replied, "I would tell them not to get too caught up in the technical aspects. It has to come from your heart." As the show wrapped up, the emcee thanked everyone for attending, and reminded the audience that "all those onstage are caretakers of our culture." Everyone streamed through the gates and into the parking lot with a genuinely good feeling of aloha, and I realize why performing is so dear to Radasha. Not only has it given her much, she gets to give back.