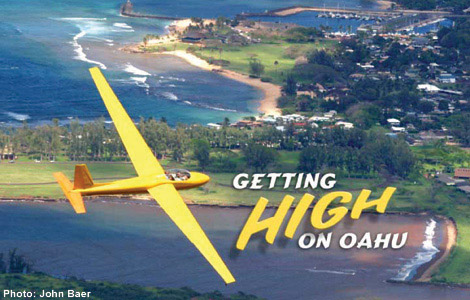 .A glider, from the Original Glider Rides, flies over Haleiwa on the North Shore of Oahu.

By:Kathryn Drury
Oahu Island News
A warm, dry wind blows constantly here at the foot of the Waianae mountain range, on Oahu's North Shore. Despite the palm trees, Dillingham Airfield seems more like a country airport; with small tin buildings squatting under a sky the color of faded denim. There's a sense of timelessness here, with a hangar near the airstrip proclaiming FIGHTERTOWN in graying paint and a mysterious concrete bunker tucked into the mountain – remnants of the area's military past. A bleached-out, once-red windsock stands stiff in the constant breeze; above, the air is caught by hang-gliders, twin-engine airplanes, skydivers, and glider planes. The gliders are surprisingly beautiful. Like some huge, prehistoric seagull, they elegantly and soundlessly loop on giant wings.
In the shimmer of midday heat, Bill Star, a redheaded man in a striped referee shirt bounds around, greeting tourists, answering the ever-ringing phone, handing out lychees, shaking hands - and occasionally sitting back down with the reporter here to interview him about his business, The Original Glider Rides. Mr. Bill, as everyone calls him, received his moniker sometime in the mid-1980s, when someone penciled in a respectful "Mr." before his name on a tin sign.
In 1970, Mr. Bill and business partner, Sam Bleadon, bought a small glider operation on the North Shore. At the time, rides were only $10. The strip was little except koa bushes. "All the gliders parked right there in the shrubbery," he explains. "We had a lean-to for people to wait under and I used my Chrysler Newport as the office."
Gliders, sometimes called soar planes or sail planes, are small, light aircraft that have no engines. What you'll notice first, though, is the oversized, long, skinny wings, which gives gliders a bird-like maneuverability. They usually carry two people and are made of fiberglass or aluminum. Mr. Bill employs a roster of 15 FAA-licensed pilots, most of whom work two to three days a week and none who earn enough to call this their sole gig. Flying a glider takes a bit of practice, Mr. Bill explains. "The mentality in flying a plane with an engine is to stay the heck away from the mountain. But with a glider, you tuck into the ridge, getting as close as possible. You need to get the lift and find the thermals to ride on. You watch the clouds, the birds, and see what's happening." Clouds? Birds? Isn't this all a little primitive? Mr. Bill laughs. "On the dashboard you've got gauges for your airspeed, a compass, an altimeter, oh, and a clock. He assures me, gliders are safer than driving. "The most dangerous part of your trip was driving on the H-1 to get here."
Dillingham Airfield is an aviator's dream. With a runway 9,000 feet long, it's also blessed with an ideal environment for flying gliders: The steady trade-winds mean a good eight to ten hours a day of lift, and only 20 days a year are unflyable – and that's on account of too much, not too little, air movement. Visibility is typically forty miles.
The majority of Mr. Bill's clients are tourists, or kamaaina who come with their visiting friends. Through the years, his gliders have served as an airborne wedding chapel, as well as hosted a Navy reenlistment ceremony.
There are few requirements for riding in a glider. "We've been doing this for 33 years and found anyone can do it," he says. "Quadriplegics can do this – you just have to be a little more careful with the merchandise. We prop shorter people and children up with pillows. Little kids are fine. In fact, I'd earlier seen a small, bonneted tot looking completely nonplussed as she departed the glider, waving goodbye to the staff. Which doesn't mean it's dull; there's also an aerobatic route offered, for which you'll need to wear a parachute - just in case.
"Gliders are the purest form of flying," muses Nabile, a pilot who has worked with Mr. Bill on and off since 1977. "I have the license to fly 747s and flew 707s with TWA for years. But I like working here because I get to deal with people who are euphoric. They are on vacation, relaxed and in a good mood to begin with, and then we give them this incredible experience." He continues, "I also like flying gliders because they are so quiet; with no engine, there's no constant hum or any smell of fuel."
Ready to try the experience for my-self, I climb into the glider, a forty-year-old Schweizer made in Elmira, New York. Don, the company's chief pilot, has on no shoes and what appears to be a (clean) diaper wrapped around his head to guard against the sun. He waves, with an enormous hand, to our tow plane pilot – a guy called The Beav – and straps me into the front of the glider. "A fine line?" he jokes, offering me the rope that tethers us to the plane. He closes the clear bubble top and we taxi very briefly. We're being pulled up to the mountain range in search of lift. There's a bit of a jolt when the rope releases and then we're on our own. It's quiet, with just the sounds of the wind, and surprisingly smooth.
The best part of the experience is definitely the view: almost 360 degrees of scenery. From up here, the coastal ocean has many incarnations, with different depths showing up in aqua, teal, and navy. You can easily see through the water to the coral formations below, or swoop down to watch a sailboat as it bobs along the waves. On land, an emerald checkerboard of fields-taro, coffee and alfalfa-stretches toward the sun. Horse trails can be seen snaking up the mountain. Up a little higher, we see the domes of the U.S. Air Force satellite tracking station, gleaming white globes bulging out from the vegetation. Despite the bright sunshine, the interior of the glider gets progressively chillier as we ascend to 3,700 feet.
Don shows me how to steer the glider, which uses controls consisting of exactly one stick, which you gently pull back, forward or side to side. "Gently, gently, like you're a teenager and sneaking an arm around your date," Don says, as I, shaking, make my first right turn. I get more confident once I realize how stable the glider actually is. But Don decides to give me a little thrill and tips the nose of the glider down. We plunge, and it feels exactly like I'm on a roller coaster barreling down the first hill. Rushing towards the sea at 120 miles an hour, I'm laughing half in delight and half in total fear. But Don is calm as anything and gracefully lands us on the runway. I climb out, amazed at all that we'd done in twenty short minutes. What a ride.
The Original Glider Rides is located at the 2nd entrance to Dillingham Airfield on Route 99/930 . Hours are 10 a.m. to 5:30 p.m. daily. Phone: (808) 677-3404 or visit www.honolulusoaring.com.