Morris Nakamura of Ewa Beach has been named recipient of the Muscular Dystrophy Association's 2005 Personal Achievement Award for Hawaii. Nakamura, 55, was selected for the honor because of his community involvement and advocacy for people with disabilities.
• • •
Left handed baseball pitcher Michael "Ian" Mopas, from Iolani High School has been picked up by the Minnesota Twins in Major League Baseball's June Amateur Draft, according to Dan Cox, a California-based area scout with the Minnesota Twins.
"I thought we'd draft more players than we did from the (Hawaiian) Islands this year, but I'm excited that we got Ian Mopas," said Cox. "Left-handed pitching is always a premium and it was something we as an organization stressed going into this year's draft."
• • •
Councilmember Barbara Marshall and the Honolulu City Council recently honored Kailua's Petty Floyd, for her work to help feed Hawaii's homeless during the past twenty-six years and her selection as Hawaii representative to the national 2005 Jefferson Awards.
Petty started helping the late Rev. Claude Du Teil with what was then called the "Peanut Butter Ministry"—for the peanut butter sandwiches and coffee served to the homeless. With Petty's steadfast, energetic and caring commitment she helped transform the Peanut Butter Ministry into Oahu's largest emergency homeless shelter; the Institute of Human Services. And, up until just a few months ago, the spry 81-year old was still volunteering at IHS, helping to plan and serve up to 900 meals a day.
Petty was accompanied by her friend Bert Du Teil, widow of the Rev. Du Teil.
The Honolulu Symphony recently announced the creation of the Hazel Van Allen Fund with a $200,000 grant, to promote the performance of live chamber music in Hawaii's schools. The Hazel Van Allen Fund will ensure that these goals are met by providing secure funding for the musicians, the required music, transportation, and the administrative costs to schedule and program the in-school concerts.
• • •

HUGS (Help, Understand & Group Support) raised $95,000 through its annual fundraiser dinner held at the Pacific Beach Hotel. The event raised the amount with table sales, donations and a silent auction. More than 350 people attended the dinner that was emceed by Honolulu Prosecutor Peter Carlisle. HUGS was founded locally in 1982 with the mission to provide support, compassion and aloha to keep families with seriously ill children together.
• • •
Hale Kuai Cooperative has been awarded a $15,000 grant from the Office of Hawaiian Affairs (OHA), under the Community-Based Economic Development program, to help with wholesale distributorship and internet development. The Project will be aligned to accomplishing economic development goals in OHA's Strategic Plan, and will began last month for a year.
• • •
The Honolulu Japanese Chamber of Commerce is seeking entries from local Hawaii artists for the 27th Annual "Commitment to Excellence" Art Exhibition. Interested persons should submit their artwork to the Academy Art Center at Linekona School on Aug. 8-9, from 9 a.m. to 4 p.m. Local art experts will judge the entries, and accepted entrants will be notified on Aug. 10. Their artwork will be displayed at the "Commitment to Excellence" Art Exhibition, August 16-26. The event is open free to the public. For more information, call HJCC at 949-5531.
• • •
Maryknoll School alumni, parents and friends gathered for the 14th Annual FORE! Maryknoll Golf Tournament held at New Ewa Beach Golf Club on July 14. More than 140 golfers participated, raising more than $26,000 towards the construction of the Maryknoll School Community Center, the school's first new building in more than 25 years.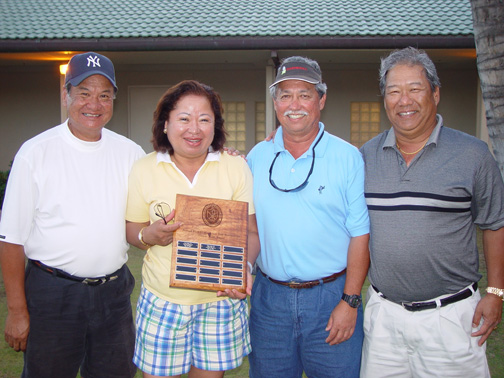 The Alumni Team Award went to the all-alumni threesome with the lowest net score. That award went to the Class of 1963, who are pictured here with the school's development director, Yvonne Morris ('63). They are, left to right: Andy Yee, George Mead and Robert Char. The tournament was part of Maryknoll School's 6th Annual Alumni Week festivities, and was directed by golf committee chair James "Jimmy" Kalaukoa ('80).