.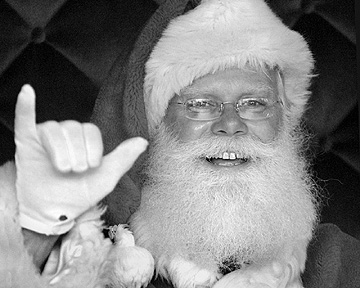 .................................................Photo: John Baer/Oahu Island News
Santa says, "No Worries, Brah"
By: Kelly Wilden
Oahu Island News
Everybody knows someone who seems to have it all: every gadget and convenience item on the market. Shopping for such people can be a harrowing experience. The high-end holiday catalogs may help, but most of us can't spring for a thoroughbred racing stallion or the rental of a Las Vegas casino for a private party. Here is the list of unique and personal gift ideas right from our island's backyard.
Gift ideas guaranteed to relax that special someone!
Hawaii Healing Arts College: Choose from a variety of "one hour" massage packages. Order by phone 266-2468.
Kailua Massage Therapy: Schedule massages for your holiday event or office party. All gift certificates are $5.00 off through the holidays. Call to order 263-4210.
American Institute of Massage Therapy: Give the latest in relaxation, a full body massage with hot rocks & aromatherapy; gift certificate available by calling 263-2468.
Hina'ea Spa: The ultimate luxury – choose from spa packages that include a one-hour facial & one-hour massage treatment. Call 261-5200.
The gift of jewelry – from traditional to unique Hawaiian designs and exotic tropical styles.
Carats & Karats: Have a special and unique piece of jewelry custom designed, or choose something from the Ming Jewelry Collection. Call 593-8133.
I Am Paradise: For those shopping on the North Shore this season your special someone is sure to be pleased by a fine piece of Polynesian black pearl jewelry. Call 637-6888.
Jungle Gem: Located in the North Shore Market-place, you can choose many unique and thoughtful gifts – maybe a gemstone baby bracelet or a rainbow necklace. Call 637-6609.
A few ideas to please and thrill the travel enthusiast on your list.
George's Aviation: Give an aviation friend on your list a free introductory flight lesson. It could be the start for someone wanting to learn to fly, and a great way to see Honolulu from the air. Call George at 834-2120 to schedule an appointment.
The Original Glider Rides: What could be more thrilling than a peaceful and silent glider ride over the mountains and ocean of the North Shore? Call Mr. Bill for reservations and information 677-3404.
Kailua Travel: For those who would like someone else to do the flying, a gift certificate or a surprise vacation package is just the ticket. Call 261-8919, for your holiday travel arrangements.
Woodrose Travel: Gift-givers from the North Shore can pick a great ski package vacation (USA & Canada). Call 637-6228 for details.
Only in Hawaii! These unique gifts will suit anyone on your gift list.
Surf & Sea: For the water-sport lover on your list, look no further. Whether it's a surfboard, snorkel gear, body boards or a spear, Surf & Sea has it all! Call 637-SURF.
Correa Ranch Trail Rides: What could be more romantic than a moonlight horse ride? This is a truly unique gift that will leave lasting memories. Call 259-0014 for more information.
Molokai Market Baskets: Need a special island gift for friends or family on the Mainland? Fresh Molokai-Island-grown papayas, can be delivered to their door. Call 1-888-959-9411 or order online at molokaiorganics.com
Polynesian Treasures: Located in the North Shore Marketplace, you can choose from the largest selection of island style gifts & authentic Polynesian handicrafts. Call 637-1288.
Naturally Hawaiian: For the keiki on your list, how about an autographed children's book written and illustrated by local artist and author Patrick Ching? Call 259-5354 or stop by the store in Waimanalo.
Finally, let someone else do the cooking!
Cinnamon's: For the chef on your list – coffee cake and cornbread gift boxes are a tasty idea. Call 261-8724 for more food ideas and information.
Café Notte: After spending a day of surfing or sightseeing on the North Shore, a Café Notte gift certificate will surely be appreciated. Call 636-2285 for reservations and information.
Cholo's: Located in the North Shore Marketplace, you can find the gift of authentic Mexican food, crafts and art. Gift certificates are available by visiting or calling 637-3059.
Baci Bistro: A gift certificate from Baci Bistro is always a great gift, or how about taking the family out for Christmas dinner and let someone else do the dirty dishes. Call for reservations 262-7555.
Happy Holidays!