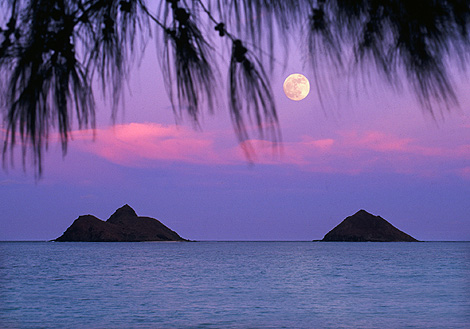 .................................................................Photo: D. Terry Bauckham/Oahu Island News
Hawaiian Moonlight Ride
By: Abe Gonzales
Special for the Oahu Island News
During the busy holiday season we tend to overlook the gifts that lie right before our eyes. The blessings of aloha are all around us. They are in the hearts of our people and in the spectacular beauty of our island. Taking a break from our time-consuming lives to truly appreciate what surrounds us can often seem unaffordable. Yet in fact, it is something we cannot afford to miss. From the back of my favorite horse Mina, I recently had a chance to experience the bountiful gifts of Oahu.
After a long afternoon of shoeing horses from Maunawili to Punalu'u, I decided it was finally time to take a deep breath of fresh mountain air as my work had taken its toll on both body and soul. I turned my truck toward Waimanalo and headed for the ranch. On the drive through the country, I gazed out over the ocean where the sea and sky joined in perfect harmony. The promise of a majestic moonrise beckoned to my heart. I decided to observe all this in a more soothing position than that in my worn-out pickup truck. After two cold sodas, and the morning's leftover Agnes' sweet-dog, I pulled my tired Dodge into the gravel drive of New Town and Country Stables.
As I stepped into the quiet of the evening, I heard my old friend Mina come from behind the shade trees to greet me. I moved toward the pasture gate to acknowledge her welcome as her elegant neck arched over my shoulder, hopeful for a few strokes. Her breath was perfumed of local cane grasses and her eager spirit was soaring like the evening trade winds. Mina's persistent nudging confirmed my own quiet idea of a moonlight trail ride. A few moments later, I had my dappled mare lightly bridled and ready to ease out of the stable.
I wanted to take advantage of the light provided on this breezy tropical night as the full moon was just beginning to rise over the Mokulua Islands. The moon caressed the Waimanalo surf and vast Pacific Ocean with exotic hues of color that flowed endlessly across the sky. Wisps of orange, red and yellow filtered through the fading rays of sunlight. The silhouettes of birds were visible against the night sky as they flew toward home.
As Mina briskly trotted onto the trail, I could feel how free and relaxed her shoulders moved. I eased into the center of her back as she comfortably carried her head low to the ground. Her strong hind legs urged our forward motion up the trail ridge. Yellow mountain guavas lay scattered on the ground, their aroma floating like an ocean breeze. The ride up the trail was breathtaking, high above holiday shopping traffic jams and hurrying bargain shoppers. Mina's tail swished away at fairy gnats while my spirit found solace in the cool night air.
Gaining elevation on the trail, I turned to look over my shoulder at the beauty below. The once immigrant-worked lands of the Waimanalo Sugar Company now provided a place of rest and recreation at Bellows Air Force Base. Unmarked immigrant graves and deteriorated runways memorialize days long-gone. Across the road, Waimanalo Polo fields were now quiet as the current season had finally ended. The remaining horses were settled in behind long rows of pipe railing where they softly munched sweetened feeds. Favorite local shops, Point Break, Sumo Connection and Naturally Hawaiian, had shut down for the night and were now able to recuperate after the holiday shopping rush. It seemed that Olomana Golf Course had gratefully reclaimed her composure, and was finally free to recover from the day's aggravations. Even from my elevated vantage point, I felt in touch with the stillness of her quiet greens.
Mina moved cautiously to the side as she maneuvered past a massive hau tree with its interwoven branches and tangled vines. The intricate twists and turns seemed to have neither beginning nor end. For just a moment the mesmerizing pattern conjured childhood nostalgia and stories my father once told of Menehune running through the mysterious forest.
The moon's power and grace at its fullest would be discovered at the peak of the incline. Mina's sturdy back legs urged our motion up the trail ridge as her strong shoulders directed us forward. Evening stars danced through a canopy of shower trees and jungle foliage. Waving palms and swaying vines welcomed us into a mystic Hawaiian vista.
Mina pressed on through age-old lava beds that silently concealed the secrets of past warriors. Mongoose burrows and wild boar trails were hints of Nature's frolic. Hypnotic clouds drifted over Oahu's immense, deeply carved cliff walls. A refreshing evening mist cooled my sun-beaten body. Together with my old gray mare, I inhaled the breathtaking scenery. I felt my lungs fill with pure, mountain air as the island seemed to relax with a deep breath of its own.
As we reached the trail's end, Mina slowed her stride and lifted her head into the cool night air. I slid from her back down to the lush mountain grass. My fingers stroked the warmth of her back as a cool trade wind swept through her mane and tail. I felt myself comforted by the delicate mixture of mountain and equine scents. For a moment we must have both been lost in the peaceful tranquility. I closed my eyes to enjoy what lay before our thirsty souls.
The grandeur of the Ko'olaus awed my thoughts. Deeply etched and chiseled angles boasted the skillful architecture of a Master Creator leaving no doubt of His existence. My own existence, by comparison, felt as no more than a faint whisper on the wind.
Tucked away behind this scenic ridge lay the fruit of a farmer's diligent labor. Taro patches and vertical rows of banana trees revealed themselves as works of art from this bird's-eye view. For this generation, at least, it remains securely nestled in the back of Waimanalo country, flanked gallantly by Mount Olomana.
An artist's pallet of purple and blue reflections brushed over landscapes of ancient grounds below. Deep green pangola grasses caressed the mountainside as if soothing the land to slumber. We stayed until dark, watching an arch of brilliant stars surround the moon in cosmic wonder. God's amazing grace was displayed from that mountaintop in an open-air gallery.
A haunting wind howled through the forests that warriors had once hunted. Mina's silky gray coat appeared translucent, almost ghostly. Her huge fluid eyes mirrored the shimmering moon, parallels of iridescent surf, and dancing palms in a dark panorama. With ears perked toward bellowing winds, she stood in a youth that had long since passed her by. As a pueo flew overhead, I felt my own spirit renewed, made one with her and this island.
Reunited with horse and nature, my mind was cleansed with a new clarity. Pivoting her haunches, we began our slow descent. I watched Mina's shoulder's mechanically rotate as she sure-footedly carried me down the red dirt trail. Pushing myself back to provide her with better ease of movement, I found myself in perfect unison. Homeward bound, Mina needed no navigation and gladly accepted all her rein.
Glimmering lights from Waimanalo homes, and cars cruising the cooled asphalt of Kalanianaole Highway lit our destination home. Guarding the sandy shores, sturdy ironwood trees lined the 4-mile stretch of coastal highway. Makapu'u lighthouse stood like a pillar of strength offering her bearing to ships passing through the Molokai Channel. In the midst of it all, Rabbit Island seemed lulled to sleep like a giant hare collapsed in the Waimanalo tides.
My heart felt lighter as the cattle pens came into sight. This spiritual renewal had nourished the very core of my being. I felt the moon had extended its energy and revived every part of my body. Familiar scents of pine shavings and alfalfa cubes blanketed me in warmth. Mina tossed her head back as if to say, "I needed this, too." Turning her loose, I watched as she cantered off on the gently sloped pasture as if she were a yearling once again.
I have realized that it only takes moments to appreciate the generosity of Nature, be it an island's sweet-smelling trade winds, the simple comfort of moonlight, or the beauty and grace of an old gray mare.