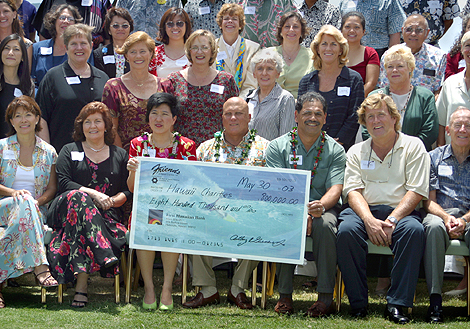 Friends of Hawaii Charities presents $800,000 to several of Hawaii's not-for-profit groups that benefit women, children and the needy.

Sports Dollars Aid Hawaii's Needy
By: Jane Shigizawa
Oahu Island News
The holidays are when most of us focus on giving: We might take a name off the "tree" at church to support a needy family, drop off cookies for a neighbor, and of course, we hit the crowded stores to find presents for our family and friends. But for non-profit organizations, giving is an everyday occupation, something that has to take priority year-round. Friends of Hawaii Charities is one of the less "name-recognizable" entities, yet in just five years the group has raised more than $3 million to help fund hundreds of programs that benefit women, children and youth.
Friends of Hawaii Charities was formed in 1998 as the shared vision of a group of business and community leaders. They decided to use their connections and management skills from the business sector and turn that momentum towards volunteerism. Anthony Guerrero Jr., executive vice president of the retail banking group at First Hawaiian Bank, serves as president.
"Once a person is in a leadership position in the business community," he explains, "you have a responsibility to give back. And it's not just those who can give money; you can also give services. Many of our executives at this bank have multiple leadership roles in charity positions. That's our culture. It feels very important."
Guerrero doesn't fit the stereotype of a pinstripe-clad, briefcase-toting banker. For one, he looks more like he could easily get cast in the role of superhero. He has a powerful, deep, gravelly voice, a clean-shaven head and intense eyes. He may have a fancy office in downtown Honolulu with huge windows overlooking the ocean, but he has never strayed from his hometown upbringing. A graduate of St. Louis High School, he's a passionate surfer who is a former president of the Hawaii Surfing Association. Guerrero began surfing at Waikiki Beach when he was 8. "I was a beach boy from the time I was 10 until I was about 18 or 19. I'm a surfer. I love my roots in Hawaii."
Guerrero has frequently used his business skills and local connections to serve the interests of the community. He works with the non-profit Hawaii Visitors and Convention Bureau, the St. Louis Education Foundation, Hawaii Community Foundations, the YMCA and others. A sports fan, he's also active with the Na Koa Football Club, which gives support to the UH football team; the Ahahui Koa Anuenue (a non-profit that supports UH's athletic program) and the Aloha Stadium's Stadium Authority, which manages the use of that venue.
"We founded FOHC for the sole purpose of raising funds for children and women in need through managing sports and cultural events," explains Guerrero. "Our philosophy is to use our skills to find sponsors for these events."
The organization's biggest fund-raising event is the Sony Open in Hawaii, on the PGA Tour, which brings about 140 golf pros to Waialae Country Club, a par-70 course, each January. This year, it runs from January 12-18. The purse is $4.8 million with the champion taking home $864,000. The Sony Open has become one of Hawaii's biggest charitable events and has raised more than $3 million in the past five years. In addition, last month and this month, many Oahu golf courses participated or will participate in "Take a Swing at Crime," a charity event that benefits the Crimestoppers Honolulu organization in cooperation with the FOHC.
"We have 1,500 volunteers working on the Sony Open," says Guerrero. "People don't realize how many volunteers it takes to run it. Forty percent of the volunteers come in from the mainland and make it their vacation to come and help out. The military helps us out a lot too."
James Kometani serves as co-chairman of events and pro relations. Part of his role is to ensure that there are sufficient volunteers to support the tournament. "My group begins their monthly planning meetings beginning in September of the preceding year's tournament and works until tournament week," he explains. "We always welcome new volunteers to assist us during the Sony Open. It's been gratifying to head the volunteers because they are totally committed.
"The charity aspect of FOHC was the main reason why I agreed to take the leadership role. Each year there is a luncheon where the charities are honored. It's gratifying to see their appreciation and to learn about the non-profit groups that are helping Hawaii's families in need."
As the title sponsor of the event, Sony underwrites the major costs of the tournament, a commitment that was renewed for another four-year term beginning last year. The Harry & Jeanette Weinberg Foundation, one of the 100 largest charitable foundations in the United States, serves as the official charity partner for the Sony Open in Hawaii and matches the FOHC's fund-raising efforts each year. "Since Sony has become the underwriter of the event, the level of the event has increased tenfold," says Kometani. He adds that the golf course and the sky-boxes have an improved quality that has raised the level of this golf tournament.
"Sony has been great," agrees Guerrero. "They could have done any golf tournament across the U.S. They would be welcome from New York to California. They chose Hawaii because they feel it is part of their culture. They have love and aloha for Hawaii."
This year's Sony Open event is sure to be watched closely, as Michelle Wie, a Punahou high school student whom many see as the female Tiger Woods, has been granted a sponsor's exemption to play. Wie has played in seven LPGA events this year and is only the third woman to play in a PGA Tour event. Last year's tournament was also the stuff of legend: Viewers watched as South Africa's Ernie Els beat Aaron Baddeley in a tense, two-hole playoff. His 43-foot birdie putt not only won him the tournament but made him the first golfer in 14 years to capture the first two PGA Tour events of the season. His $810,000 check was impressive, but so is the $800,000 the event raised for Hawaii's charities.
Another tournament key to FO-HC's success is the Turtle Bay Championship, held on the Palmer Course at the Turtle Bay Resort on the North Shore in October of each year.
"Through these events, we've given funds to 150 charities in excess of three and a half million dollars," says Guerrero. "Ninety-nine percent of those are local. We give to small charities such as HUGS as well as massive social organizations such as Child and Family Service, which has 600 employees."
Hundreds of charities receive funds from FOHC, but here's just a smattering of names: Adult Friends for Youth, American Diabetes Association, Bishop Museum, Hawaii Fido Service Dogs, Hawaii Library Foundation, Hawaii Public Television Foundation, Honolulu Academy of Arts, Honolulu Dance Theatre, Honolulu Zoological Society, Japanese Cultural Center of Hawaii, Kahuku Hospital, Kauai Children's Discovery Museum, MADD - Hawaii Mothers Against Drunk Driving, and Public Schools of Hawaii Foundation.
Donna Witsell, executive director of HUGS (Help, Understanding & Group Support), explains how FOHC assists her foundation: "We help families with seriously ill children. We are a home-grown, Hawaii-based organization with no chapters outside of the state and receive no state or federal money. We have been recipients of FOHC grants since 1999 and they have helped us fund several of our programs, such as our emergency airfare assistance program, which provides up to $2,000 per family per year so that parents can transport their ill child to whatever medical facility is necessary. Most recently, FOHC funds enabled HUGS to purchase a van."
With HUGS's referrals growing 10 percent a year and no public relations budget for drumming up fundraising, it's a challenge to accommodate all eligible families. "But by partnering with FOHC," says Witsell, "we are not only given a large donation each year, we are able to expose our mission to others. And it offers us credibility since we must meet the criteria set forth by FOHC, showing the community that we are a viable and credible non-profit."
Grants are given out each year to qualified not-for-profit organizations. The application deadline for the 2004 grants program is January 26. "We have a committee and screen the charities," says Guerrero. "We ask ourselves if the charity fits our mission. Is it cultural, educational, social or basic programming? We give out funds once a year, right after the Sony Open. We also follow up on the outcomes. It's not just 'here's a check.' We want to make sure we're making a difference in our community."
"We're looking for more events," adds Guerrero. "We'd like to get up to a million a year in donations." But not just any event will do; FOHC looks to produce events that will build Hawaii's reputation. For example, the Sony Open brings $25 million to the state economy and the event is broadcast live on ESPN — in the middle of winter, when the sunshine and greenery help inspire vacation plans.
"We also put together ad packages for the Buffalo Big Board Surfing Championship, held on the west side of Oahu," says Guerrero. "That event is not televised live, but will be televised in 70 different markets." Guerrero also sees another challenge: "Our community's most pressing need is to get rid of ice," he muses. "It ruins every layer of the community. It's a deadly problem, a cancer to our ohana."
Whatever your cause, be passionate about it, Guerrero says, it's important to just get in there. "Let your heart lead the way. Find a charity or a volunteer position that you want to do, that you are interested in." As Witsell points out, "charitable giving is essential year-round because the need for assistance is not seasonal. It's important to realize that many of our neighbors need help."
Friends of Hawaii Charities
733 Bishop Street, Suite 2160
Honolulu, Hawaii 96813
Phone: 792-9339 or friend@friendsofhawaii.org.