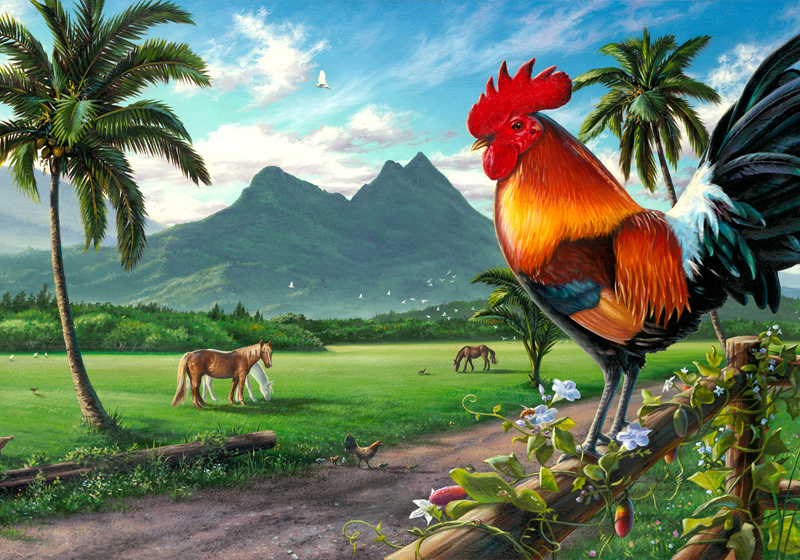 ORIGINAL ILLUSTRATION BY PATRICK CHING
One Thousand Years of Wild Oahu Roosters:
From Polynesian Staple to Critically Endangered Pest
By W. KNOX RICHARDSON
Why did the chicken cross the road? To get to the beach.
In Hawaii, the most common questions often yield surprising answers. For example, which came first, the chicken or the egg? The Hawaiian answer is the demigod Maui, son of Hina, the mother of the Hawaiian people:
"Hina-of-the-fire conceived,
a fowl was born
The child of Hina was delivered in the shape of an egg
She had not slept with a fowl
But a fowl was born
The child chirped, Hina was puzzled
Not from sleeping with a man did
this child come
It was a strange child for Hina-
of-the-fire."
— from the Kumulipo,
Hawaiian creation myth
Recorded history suggests the first settlers in Hawaii probably arrived around 500 A.D., according to most archaeologists who also agree they came from the Marquesas Islands and brought the first chickens to Hawaii with them.
"The chicken is as Hawaiian as the Hawaiians are," said a shy, local cultural observer.
Five hundred years later the first Tahitians landed in Hawaii beginning a whole new era of cultural migration and bringing with them much larger chickens and more colorful roosters.
It is here the Wild Roosters of Oahu began their Thousand Years Free Reign over the Aina unlike any other animal — mythological or natural. The rooster became known as Moa Kane and is so immersed in Hawaiian culture that, like the proverbial forest and trees, the impact this ubiquitous barnyard bird has had on Hawaii is often difficult to cull from daily life.
Unlike other colorful birds, ownership of roosters wasn't limited to Alii with commoners raising chickens for both eggs and meat. Hackle feathers from the necks of roosters were used in making feathered kahili, a pole topped with a cylindrical plume of feathers usually a symbol of authority like the medieval ceremonial mace held by kings and other war powers of Europe. Chickens were even among the gifts islanders gave Captain Cook.
As other cultures migrated to Hawaii, they brought with them their cultural appreciation for chickens and roosters, too.
The rooster has long been the symbol of Portugal, as the eagle is for the United States of America. So when Portuguese sailors first landed on Hawaiian shores, they brought with them the forerunner of the ukulele as well as a cultural reverence for the rooster.
Similarly, the Chinese influence on island culture is clearly evident in downtown Chinatown and elsewhere on Oahu where over the past nine months the Year of the Rooster has been celebrated. In Chinese culture, not unlike ancient Hawaiian folklore, the Rooster plays a key role as a harbinger of threats and an alert sentry who will cry out when danger approaches — though he has few friends.
Legend has it that the only time a rooster ever crowed at midnight was at the moment of Christ's birth. The tradition of Christmas Midnight Mass began in the year 400 A.D., honoring, as legend has it, Christ being born at midnight. In some Spanish and Latin countries, the midnight Mass is referred to as the Mass of the Rooster. Rooster Masses are common at Roman Catholic churches throughout Hawaii.
More modernly wild chickens can be found in both urban and rural settings all over Hawaii. In more agricultural and rural areas wild chicken flocks can be so thick that their inherent value as ravenous insert eaters can be overshadowed by their reputation as noisemakers and a health nuisance.
Waimanalo nature artist Patrick Ching (whose work is featured on this month's cover) tells of childhood memories of growing up in rural Oahu where roosters were household pets.
"Some of my most vivid childhood memories were at my grandmother's house watching the chickens and feeding the pig and other animals," Ching said. "Then one day I came home to find my grandmother cleaning chicken feathers off a fresh killed bird for dinner."
Even today, youths from many cultural backgrounds can be seen stalking and trapping wild chickens — some for pets, but often to raise for more culturally sensitive purposes — cockfighting.
While some evidence suggests cockfighting in Hawaii predates Capt. Cook, it wasn't until one century ago when the first Filipinos began arriving in Hawaii the practice became widespread, though generally limited to rural areas. While ostensibly illegal in Hawaii, the laws are relatively lenient and rarely impose jail time for all but the most egregious offenders. The bloodline of many Hawaii game birds can trace their lineage directly back to the birds brought by the Polynesians, at least that is the thinking of a host of local breeders, none of which wanted to go on the record..
The cockfighting infrastructure is legal and a well-respected hobby known as game bird breeding. It's no secret that game breeders — while claiming their birds are just for show — routinely ship specimens around the world to participate in both legal and illegal forms of cockfighting. In Hawaii, the Hawaii Game Bird Association is public-spirited group of enthusiasts who help rid the countryside of wild birds that become pests or noise nuisances, in addition to raising thousand of birds whose sole breeding and linage comes directly from the best fighters. While cockfighting is a felony in 38 states, no single state has outlawed the raising and selling of game birds, or exporting to countries or states where such fighting is legal.
Additionally, when it comes to breeding and housing game birds, no one state agency claims jurisdiction in regulating or controlling such operations. The state Dept. of Agriculture, which regulates commercial poultry as well as the importation of live birds into Hawaii — including game cocks — claims the law only permits it to regulate business operations that breed or raise commercially sold birds for meat and eggs, and not those for show.
However, the biggest challenge to the longevity of Hawaii's wild roosters isn't a new law or anti-cockfighting protest — it's the flu, the bird flu, the strain of avian influenza known as H5N1. There are some 16 varieties of avian flu, numbering 1 though 16. Variety five, strain one, is a particularly pathogenic virus that is almost always fatal to birds and when transmitted to humans by bird feces or aerosol spray (literally a bird sneeze), it has a 50/50 record of fatalities. No known human-to-human infection has occurred, but, according to many contagious diseases experts, we are already in the first stage of a global pandemic.
The state has prepared a comprehensive plan for battling the bird flu but even a superficial look reveals gaps in the program, especially dealing with wild and game birds. According to spokespeople from the state Department of Health, the interception of foreign visitors to Honolulu at the airport is the primary and best defense against the importation of bird flu, but that agency only deals with the human population. For the plan to be effective, infections must have already jumped from birds to people, perhaps fostering a mutation of the virus allowing it to be spread at that point easily from human to human.
Legally, all birds from any international point of origin must be quarantined and inspected on the mainland before arriving in Hawaii. Migratory wild birds, especially waterfowl, represent some degree of risk to Hawaii, but since the flu has a relatively short incubation and is almost always fatal for any bird, the chances of a wild bird from the north actually arriving here alive is remote.
According to a report from the University of Minnesota, College of Veterinary Medicine, the major risk for the importation of this virus is probably smuggled live birds for either the pet bird trade or for cockfighting. One year ago, a Thai man landed at the Brussels airport where customs agents found two rare eagles in plastic tubes in his suitcase. The birds looked relatively healthy, but tests showed both had H5N1 avian flu.
As of this writing, the state plan to battle N5H1 fails to recognize the threat to the human population from smuggled birds, and the lack of supervision over the game bird industry may be a potent combination should bird flu appear here in unregulated flocks.
Dr. Jim Foppoli, state veterinarian with the Dept. of Agricultural, acknowledged bio-security as top priority for the agency. He also said his agency can only take action after receiving a report of a suspicious bird death, sometimes from the public but generally from the breeder. Should a gamecock owner suspect avian flu, he must contact the Dept. of Agricultural who would send a team out to investigate and if necessary isolate and quarantine the infected birds. At the same time, quarantine areas of up to two-and-one-half miles would be set up surrounding the infected farm. Since this strain of flu is so pathogenic, it is not likely birds would survive to infect others, however, even stray or wild chickens would be rounded up or trapped in the area should bird flu be found. At this point a joint state/federal task force would be created to manage the outbreak.
The Hawaii Humane Society made its position public in a published editorial in June in the "Honolulu Advertiser."
"Cockfighting is the most likely way to have this disease introduced into our state," wrote Pamela Burns, president of the society. She noted that in 2003, a deadly bird virus was introduced at an illegal cockfight and transported to three other states. "It is important that we eliminate cockfighting if we truly want to protect our state, our residents and our birds from these deadly avian diseases."
Others, including state health officials, don't necessarily agree.
The Wild Roosters of Oahu have survived volcanoes, tsunamis, earthquakes, famine and even war. But will they survive the bird flu pandemic of 2006? Should the bird flu hit Oahu and find itself among game birds or wild chickens, it will take more than a few dollars and a lot of manpower to eradicate wild flocks.
Knowing he and his family have been here a lot longer than most of us, we may all want to look a little differently at that proud, strutting rooster crossing the road on his way to beach. Because maybe, just maybe, he did come first.