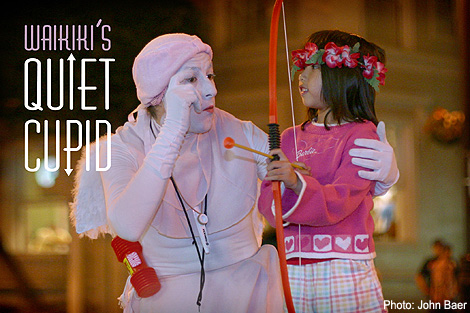 By: Mary Young
Oahu Island News
It's early evening and you're walking down a crowded sidewalk, trying not to bump into anyone. Suddenly, you feel a pair of arms surrounding you in a bear hug. It's a stranger dressed in white, with feathered wings, a pink tutu and a little bow and arrow. It's … Cupid. Are you in love? No, you're in Waikiki.
Cupid is the alter ego of street mime Chris Liger, who showers affection on unsuspecting pedestrians as part of his improv act in the heart of Waikiki. Like other entertainers who work for tips along Kalakaua Avenue, he's trying to attract an audience. But Liger is also looking for someone who's willing to play along with his antics. Cupid is a happy character, and he wants to "share the love."
Liger (rhymes with "tiger") is French – he grew up in Paris – but he doesn't do classic mime in the Marcel Marceau tradition. His style developed from studying characters such as Laurel and Hardy, Mr. Bean, Charlie Chaplin and Buster Keaton. Liger calls it "burlesque mime."
"Why mime, because I don't speak," he says. "I could speak, I could say something, but I found out that if you don't speak, you reach more people."
The sexually ambiguous costume is part of his message. With white makeup, big, clunky shoes and Liger's slight physique, it's not obvious whether Cupid is male or female. The look puts some people off and he tolerates the occasional unwelcome remark – especially performing in the United States.
"What I'm doing is, I'm pushing the edge as a man dressed up like a woman," he says. "When you think about it, Cupid has no sex … but the fancy, the conception of people is that of a feminine character. So why would a man put up with a feminine character? I want to push the limit; I want to push the button that says to people, 'Look, you've got a problem with sexual gender. And you're facing some issues here.' With humor, I can kind of help them to open their minds."
A routine might begin with Cupid picking a tourist out of the passing crowd and blowing a loud police whistle in his direction. He motions for the startled tourist to come and stand next to him and wait for further instructions.
If the "volunteer" is male, he might reach under the guy's shirt for a feel. If female, he might reach down with a baton to stretch the neckline of her blouse for a peek. Seeing an elderly lady pushing an empty wheelchair, he jumps in it for a short ride. He takes a soft drink from one person and gives it to another. Someone asks him to pose for a picture with them and he agrees, but insists on setting up the shot. Then it's hugs and kisses all around. It's ridiculous, it's edgy, and the audience loves it. On the nights that Cupid is working, he's drawing the biggest crowd.
A couple of 30-something tourists from Tennessee, Jeanie Bittner and Denise Stafford, enthused about Cupid after a recent show. "We're having so much fun with him. He's fabulous," said Bittner.
"He made us laugh hysterically," said Stafford. "As long as the crowd keeps responding to him, that's the best part."
Noelle DeLuca, a college-age visitor from Maine, found herself in the middle of a comedy bit. Asked later if she was embarrassed, DeLuca said, "No, not at all, it's a lot of fun. I would have definitely given him money if I had it."
Liger won't discuss how much money he takes in as Cupid and says not all of the offerings are cash. One evening, a pineapple was placed on the sidewalk near his feet. The fruit wasn't a prop; it was a donation. He says, "I get beer, I get a pineapple, I get candy, I get discount tickets for McDonald's. There's a lot of that." Sometimes, people just give a few coins. "And sometimes you have the happy hundred bucks," he says. "It happens."
Entertaining for tips, also known as "busking," is a sideline for Liger, one that brings him to Honolulu three or four months a year. The rest of the time he's in Las Vegas, doing regular gigs with various comedy and theatrical troupes. Depending on what's called for, he works as a comic actor or mime.
Occasionally, he also performs as a "living statue" – a familiar breed of entertainer in Waikiki. Liger says his living statue differs from others in one important way: "No shades. No mask. The real stuff."
Anybody can do this if their eyes are covered so they can blink, he says.
"You can do it. I give you the proper costume, I give you a bench, I give you a mask, I give you some shades, and you sit like this … you're doing nothing!" he says, adding that he has no hard feelings toward his monochromatic colleagues on Kalakaua. "They do their thing, they make money, good for them. As long as they make people happy, that's fine. But for me, there's nothing special in what they do."
Liger's career has taken him to southern California and to Asia and Australia, where he had a speaking part in a soap opera "Flotsam and Jetsam." He met his wife, a Northwest Airlines flight attendant, when he was doing a show at an airport in New Caledonia.
He started out in sales and sales management in France, selling "Anything. Everything." He began performing before he had any theatrical training.
"The first time I did a show was in Japan," he says. "I was dating a Japanese girl at that time and then we broke up and I was by myself in Japan, didn't speak Japanese, out of money, miserable, so I had to do something for my living. I just went into the street, put on the Chaplin character, did a little dancing gig and miming with a (boom box), and it worked fine. I made a hundred bucks."
For American audiences, he tones down his mime act to stay within cultural – and legal – boundaries.
As the androgynous Cupid, he says, "The second button that I push is the kissing thing, the sexual jokes, the sexual slapstick. This is a different act than I do in Europe. Completely different. I don't do one-third of what I can do in Europe; I do something else or I'd be in jail."
For instance, he says, "A woman wouldn't be offended in France if I grabbed her breast, touched her breast. It's not perverted there, it's not kinky there, it's just … when I carry on, I carry on very far. I play with the cops in France. I stop the cars. I police the cars. I take the cars away. I come back with the cars. I open the trunk of the cars. I take off the luggage. I go wild. And no way can I do this in America. There's no way."
Liger, who's 39, has an easy smile and a polite manner. He showed up
for an interview in a polo shirt and casual pants, his hair shoulder-length. He spends his free time on Oahu creating new shows and developing a potential film career. Having recently completed video editing and screen-writing courses, he's working on a screenplay for a feature-length film with a Hawaiian-related subject (a "very-long-term project").
He acknowledges that his interaction with the audience is risky. In choosing someone to pick on, he says, "you have to read the manner of people. In an instant, I have to be able to see if the person is open-minded or not."
Occasionally, he makes the wrong call. Once was during a sidewalk performance in Los Angeles, when he first came to the United States. "I was doing a show in front of this restaurant, and this guy came around and I wanted to pick a belly fight, to be funny," he says.
Liger realized too late that he had picked out a member of a street gang. "I was dressed like a ninja at that time, and he didn't like this little skinny ninja, you know." The situation almost escalated to a real fight, and Liger took off. "I simply ran faster, that's all."
Another time he had to improvise a fast getaway when a traffic gag went wrong. "I was dressed up like a cop and I was doing a traffic jam," he says. "That was in France. I was a fake cop, doing a show in front of this restaurant. There was this one car going to get out of this parking garage, so I tried to (direct) the traffic with this car, and then a car came, and then another car came, we were just playing a game, and I ended up with a huge mess. There was traffic for miles. And then the real cops came around, and I just hid. I hid in a trash bin, actually.
"For me, it's important to make people laugh. Especially these days, where the only thing we hear is war, terrorism, and actually I have a lot of people who come to me and say, 'Oh, you make me laugh, thanks,' and that's very, very encouraging – and that's everywhere in the world.
"I know I may upset some people too. I don't think I make everybody happy. I know that. You cannot be doing a show that is going to click for everybody, make 100 percent of the people happy. But most of the time, you know, I get a good response."
Chris Liger performs as Cupid several nights a week in Waikiki. Look for him on Kalakaua Avenue near the International Marketplace.