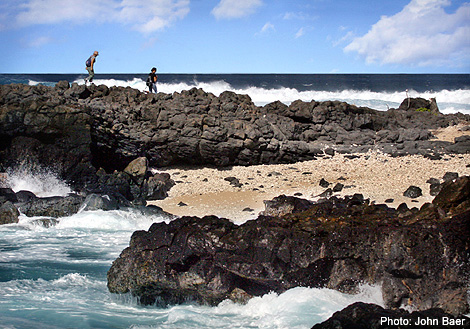 Miyoung Grab (l) and Andrea Lienhard (r) hike along the rocky coastline at Kaena Point.
Take A Hike... Hiking Trails on Oahu
By: Kathryn Drury
Oahu Island News
From the windward to the leeward side, the Hawaiian Trail & Mountain Club embraces all the hiking that Oahu has to offer.
Before he even took his first steps, Phillip Booth was out hiking. His parents had met as members of the Hawaiian Trail & Mountain Club here on Oahu, romance was kindled, and soon enough young Phil was strapped into a baby carrier, enjoying a fine view of Hawaii from the vantage of Mom's or Dad's back.
Most club members haven't been involved from such an early stage, but are nevertheless just as dedicated to hiking. The group was formally founded back in 1910 by Alexander Hume Ford, an adventurous mainlander who also helped start the Out-rigger Canoe Club in Waikiki and once taught Jack London to surf. Today, the Hawaiian Trail & Mountain Club has about 300 members and organizes one or more hikes a week, regularly hitting about 80 trails on Oahu. The activities they plan—following ancient footpaths or old military trails, women-only outings, and potluck treks/dinners in honor of Thanksgiving, for example—are as varied as the membership, which includes doctors, lawyers, engineers and teachers. The club also gathers for camping, community service (area trail maintenance), and will occasionally sponsor trips to enjoy hiking on neighbor islands and the mainland.
"We don't lead guided hikes," explained Phil Booth, who served as coordinator on a recent Saturday morning outing. "We are a group of people who enjoy hiking and the safety of hiking in groups."
As a beginning mountaineer, the idea of safety and groups sounded appealing. I'd met up with the club at its usual rendezvous point, the back parking lot of Iolani Palace. We got a quick briefing on the day's activity, a coastal hike on Kaena Point, the westernmost tip of Oahu. It was rated for novices, and I was thankful, as the club is more likely to tackle intermediate or advanced routes. Some of the trail write-ups can sound a little intimidating: "It's a chest heaving, toe jamming, knee cracking, butt wrenching kind of a climb. But hey, the views are great, and the company is sublime," read one. "NOT for acrophobes or the faint of heart," said another. "Nearly vertical climbs, razor edges, sheer drop-offs, runaway downhills... but stupendous views!"
Experienced hiker Patrick Rorie, who knows the club well, having served as its president until last April, reassured me, saying that hiking is like any other sport. "You start slow and build up confidence." Rorie, who joined the club in 1996, remembers being challenged by a rope bridge out on the Olomana trail. But he got over the fear—and the bridge—and says the encounter helped him trust his capabilities.
Tim Miller, a paralegal by day, recently joined the club, so I asked him about his early impressions. "First I had to train myself to get up for 8 a.m. hikes on Saturdays," he joked. "I like the diversity of the group. There are all kinds of people in the club, of all ages. Some are in their 50s and 60s, and they can hike my legs off."
Out on Kaena Point, the surf was high, sending salty mist over the beach and trail. The area is a protected wildlife sanctuary because of its rare dune ecosystem, so I kept a lookout for nesting albatrosses, as well as humpback whales offshore.
Gail, a realtor visiting from Salt Lake City, had found the group on a community bulletin board. "I hike a lot at home and wanted to try it here." Guests like Gail are welcome on club outings, unless the event is members-only, and are asked to chip in with a $2 donation. A quarterly schedule, posted on the club's website and also on brochures, lists hikes and descriptions. Once you're there, feel free to go at your own pace. "I'm a slow hiker," said Phil, making the novices feel more comfortable. "It's just nice to get outside. And I like the clubhouse."
The members constructed the clubhouse, located near the beach in Waimanalo, in 1926. It's a "poor man's country club," with a kitchen, meeting area, lounge, library, and game areas. Members can gather for social events, such as dinners, training seminars, or slide shows, or just hang out and play a game of volleyball or ping-pong. The club is nonprofit, with a seven-member board of directors steering the business operations. Monthly board meetings help keep things on track, and there are plenty of committees so that members can get more involved if they wish. Joining the club is simple: you need to be at least 18 and have gone on three club events in the last year. To apply, fill out a form, get it signed by two regular members, and send it in. Annual dues run $15-$20 for individuals and families.
"Sometimes we get as many as 60 hikers out at once; other times, for advanced hikes that are members-only, it's only 15 people," offered Judy, an avid member who whips out her boots every single week for club events. Her favorite hike is Olomana, which is an incredibly steep trek up to an elevation of 1,600 feet. But once aloft, hikers are rewarded with 360-degree views and the fellowship that results in tackling a difficult task together.
Besides camaraderie and the sheer fun of being able to say, "I'm going to the clubhouse," membership has another bonus: access to mountain trails that are off-limits to the general public. It's a privilege that is becoming increasingly difficult to arrange, said current club president Dayle Kalama Turner. "In recent years, we've seen increasing restrictions placed on hikers and backcountry enthusiasts by landowners who are expressing concerns about vandalism and liability, among other issues. For instance, we are having discussions with the Kamehameha Schools to gain access to trails on KS lands in the mountains above Haleiwa. Obtaining the amount and type of liability insurance required by KS is a challenge we are dealing with."
Turner and the club are also concerned about the overuse issues threatening certain areas. "Some trails we hike are also used extensively by the public, Hawaii Loa Ridge being a good example," Turner said. "Its upper section is badly eroded due to hiker traffic, so to help, we are looking at modifying our hike schedule to give trails like Hawaii Loa a rest and hopefully a chance to recover." And then there's the challenge of carrying out the club's mission based on volunteer-only help, which is never easy. "We're doing fine," said Turner, "thanks to a hardworking and dedicated membership."
Luckily, whether it's job stress, juggling a family, or the task of keeping a club going, hiking is a perfect antidote to day-to-day worries. It's hard to feel too tightly wound up when you're watching an albatross bob up and down like Little Richard, or the azure sea sweeping across dark lava in timeless patterns. The trails offer a respite from the sometimes-crowded conditions on this island; you can get away from the snarled traffic and throngs of tourists, the crowded beaches and full mall parking lots. Experiencing Hawaii in her natural state gives you a chance to fully appreciate where you live. As Dayle Turner expressed, "Through hiking, I've learned so much about Oahu. I've picked up stuff about plants and animals, about geology, about Hawaiian folklore, about history, and more. Hiking also is a great way to see parts of the island that few of our one million residents venture to. Nothing can top hiking along in the clouds at the top of the mountain."
Ready to try hiking?
There are a few things you need to know:
"Come out and hike with our club," encourages club president Dayle Kalama Turner. "We have many members, young and not so young, who would be willing to answer questions and provide advice and encouragement to newbies." For those who prefer hiking by themselves, Turner suggests starting with the easier trails, such as the Aiea Loop or those in the Tantalus Complex, to build stamina and confidence.
- Pick up a good hiking guide. Turner recommends club member Stuart Ball's The Hikers Guide to O'ahu, a comprehensive coverage of 50 trails on this island. Ball also wrote The Backpacker's Guide to Hawai'i and The Hikers Guide to the Hawaiian Islands. Or stop by the Division of Forestry & Wildlife, which will provide trail maps and descriptions. They're available Monday through Friday at the Kalanimoku Building, 1151 Punchbowl St., Room 325.
- Be sure to carry enough water—about two liters of water per person for a full day, or one liter for a short, easy hike. But if it's hot, plan to take along even more. On club hikes, it's suggested you pack a lunch.
- Hiking boots are highly recommended because they keep your ankles stable and offer good traction to help prevent mishaps.
- Before setting off on a hike, let someone know where you're going and when you expect to return. If you need help, you'll be found more easily.
- When exploring rocky shorelines use caution and remember the old Hawaiian admonition "Never turn your back to the sea"- sudden large waves frequently sweep people away.
- Bring a first-aid kit (or at least Band-Aids), a whistle, flashlight, mosquito spray, rain gear, and sunscreen (at these latitudes, the ultraviolet rays from the sun are strong) – plus that wonderful modern addition to the hiker's backpack, a cell phone.
For information on the Hawaiian Trail & Mountain Club, visit the web site, www.geocities.com/htmclub for information, schedules for upcoming hikes, and photos from recent events. Or write P.O. Box 2238, Honolulu, HI 96804.