.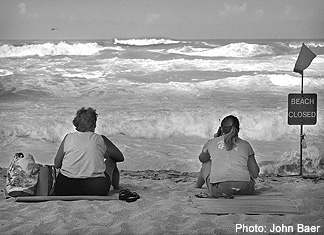 High surf and disorganized waves pound Sunset Beach.
Hawaii's Waves Just Too Big!
By: John Baer
Oahu Island News
This past November, the Rip Curl Cup (the second jewel in Vans Triple Crown of Surfing) was postponed on five consecutive days due to unfavorable surfing conditions. On Monday, November 25th, competition was suspended just a few hours after the starting horn due to massive waves breaking at Sunset Beach. The giant 20 to 25 foot surf was breaking along the entire North Shore coastline, regularly closing out across Sunset Beach's usually calm channel, and then rushing up the sand and even over the Kamehameha Highway.
The massive and disorganized swells continued for the remainder of the week. "Today (November 26th) we have the biggest swell I've seen all year," said Vans Triple Crown of Surfing executive director Randy Rarick. "It's breaking out on what we call the fifth reef, about a mile out to sea. It's at least 20 feet at Sunset. With the size and the high tide this morning, waves rushed up over the beach and flooded the contest area. Luckily we were ready for it."
Competition was again postponed on Wednesday, November 27th, before a single board hit the water. Rarick was left with no option but to postpone competition and wait for the swell to diminish and the winds to decrease: a unique situation that generally only happens in Hawaiian waters.
After a Thanksgiving break, hopes were high for a Friday morning start, but that didn't happen as the chaotic line-up of waves and stormy surf conditions prevailed at Sunset Beach.
Saturday, November 30th then marked the fifth consecutive day of postponements for the Rip Curl Cup as massive closeout sets continued to pound Sunset Beach. "It's been a very unusual waiting period so far this year. Normally we're waiting around for the waves to increase in size, but presently it's been the exact opposite as the waves have been 16 to 18 feet plus," said ASP head judge Perry Hatchet.
"Only in Hawaii do we cancel events because it's too big," he added. "This is why Hawaii is an integral part of the tour. We might see great small waves in Europe and Brazil, perfect waves in Fiji, but the huge waves in Hawaii round it off and make the ASP surfers the best in the world," said Rarick.
The Rip Curl Cup finally resumed on Sunday, December 1st, with a full day of competition on clean 6 to 8 foot waves. Following two more days of favorable conditions, Australian Joel Parkinson came out on top as the winner of the Rip Curl Cup.