.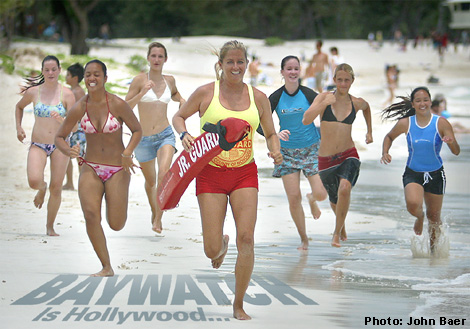 Hawaii Lifeguard Shannon Clancey (center) run with a group of "Jr. Lifeguards" at Kailua Beach Park
...Hawaii Lifeguards Are The Real Thing!
By: Kathryn Drury
Oahu Island News
If you think pulling a 150-pound body out of the surf takes strength and courage, try teaching a summer program for a group of hormone-addled teenagers. Shannon Clancey does both, and in doing so, has become a role model for young people all over Oahu. Shannon, a 27-year-old lifeguard with the Ocean Safety and Lifeguard Services Division (OSLSD), is one of the elite corps who protects Hawaii's beaches. The job demands the physicality of a professional athlete, the speed and skill of an emergency medical technician, and the patience of a babysitter - slathered with sunblock and rolled into bright yellow shirt.
The OSLSD is part of the City and County of Honolulu's Emergency Services Department, which also encompasses firefighters and ambulance crews. With the patient, intense gaze of predators, the staff of 180 ocean safety officers scans the horizon from their positions along 50 miles' of sand. It's not about hardbodies or endless summers; duties include preventing injury and drowning, administering emergency life support, enforcing beach regulations and giving first aid.
According to the department of health, more than 38 people drown in Hawaii each year. Every year, between 800 and 1,000 people are rescued from the waters around Oahu.
A key part of the job is to interact with the public, advising visitors and kamaaina alike on ocean conditions and helping them decide if that particular beach is really the best fit for their abilities. For example, one pale and clueless family that Shannon approached at body-boarding mecca Sandy Beach told her, "We've never been here before, but it's just like Lake Michigan!" She laughs ruefully as she recounts the story. "I'm like NO! It's not like Lake Michigan. This is a huge ocean, coming up onto a steep shore break."
Compared with lifeguarding the placid, chlorinated waters of a pool, lifeguarding the ocean is far more rigorous. "You can't make people not go in the water, unless the beach is closed," says Shannon. "And you're dealing with all sorts of people, especially tourists. I do enjoy talking to the public; they only bother me when I'm worried about their safety and they're being oblivious. We called it the 'vacation mentality' - they are zoned out and not aware."
With eyes the same aquamarine hue as the water off Kailua, Shannon looks as if she's watched the sea so intently that it now dwells within her. "Spotting a swimmer in trouble is instinctual," she muses. "There's a face they get. A look of concern. They're not smiling anymore." Born and raised in Kailua in a house five minutes from the beach, she clocked in a lot of surf time as a kid, first paddling, then surfing. At 16, she signed up for the junior lifeguard program, run by the OSLSD. "Then when I was 20, I started to think about 'where would I like to be for eight hours a day?' I knew it wasn't a desk."
Shannon, who has a B.A. from Hawaii Pacific University and is taking classes toward a master's degree (she's interested in international business), nevertheless remains committed to ocean safety. She's already served as a lifeguard for six years, and says, "I don't know if I'll do this until retirement, but I plan to do it for a while."
To apply to become a lifeguard, you must be at least 18 years old, have a valid Hawaii driver's license, a high school diploma (or equivalent work experience), a current American Heart Association or American Red Cross CPR certificate, lifeguard certification from the Red Cross or the U.S. Lifesaving Association, and first aid training. "You have to be fairly responsible and willing to stay in shape," Shannon adds.
Knowing that she'd have to take the rigorous physical performance tests to become a lifeguard, Shannon trained by running and swimming along Kailua beach. The grueling requirements include being able to complete a 1,000- yard run/1,000-yard swim in under 25 minutes; a 500-yard pool swim in under 10 minutes; a 400-yard rescue-board paddle in under four minutes, and a 100-yard run/swim/run in under three minutes. (Once you're in, there's no slacking—Oahu's lifeguards are retested annually.)
The day Shannon took her stamina tests she was one of about eighty people trying become a lifeguard. Half were tapped for the next stage in the process: an interview. "They asked us things like 'are you an ocean person?' or about how we'd handle the waves," she says. Twenty people were accepted into the class that took three weeks of full-time training in subjects such as the use of automatic external defibrillators and handling all-terrain vehicles. Shannon started her ocean safety officer career at Waikiki beach, which she considers fortunate, "because a lot of the job is helping and talking to the public, versus Hanauma Bay, where you have a rescue every day."
Last year, 12 people – all tourists and all snorkeling – died at Hanauma Bay, a startling death toll that exceeded the combined total of the past seven years at that location. It's even more startling because the bay is in many places shallow enough to stand up in. "The swimmers there are total novices, or they haven't been snorkeling in 10 years," explains Shannon. "All it takes is one gulp of water and they panic." She says that giving CPR is a "vital, but not common" part of her job. "One year I had six CPR cases, but that was unusual." More often, she's reaches swimmers before they've stopped breathing and assists them with a flotation tube.
In addition to Hanauma Bay, Shannon works beaches throughout the windward side. "A lot of the old-timers like to just work one beach, but I enjoy the variety," she offers. "I like Waimanalo; it's so beautiful, and Sandy Beach, where there's a lot going on."
As one of only eight female lifeguards in the department, Shannon faces some gender-related challenges. Simply having a woman around makes some male lifeguards less comfortable. For one, it cramps their girl-watching. And their language. "They'll swear, and then apologize to me, like 'there's a lady present.' Whatever. Sometimes it's easier for me to work the one-man outlooks!" Swimmers can be a little chauvinistic, too, even while they are slowly sinking – as if being saved by a woman is somehow emasculating. "It's bad on their egos," Shannon says, "but the worse-off cases are less picky. When you're dying, you don't care who rescues you!"
Shannon also serves as an instructor with the junior lifeguard program, conducted by the OSLSD. It's a five-day-long class, with sessions running throughout the summer, that trains 13 to 17-year-olds on water and beach safety, ocean rescue and first aid. Lieutenant Mark Cunningham, a veteran Pipeline lifeguard and world-champion bodysurfer, serves in the training department of the OSLSD. He says the department is lucky to have Shannon and notes that 40 percent of the pro-gram's participants are girls, so it's ideal to have female instructors serving as proof that they too can dive into a career saving lives.
At Kalama Beach, in Kailua, one of the program's many locations, Shan-non works her crew of fifteen teens. They stretch, do push-ups, beach runs, ocean swims. "It's great," says 13-year-old Kathryn Schulmeister. "I signed up because my brother and sister had done the program and liked it. Shannon is a good teacher because knows what she's doing and she keeps everyone's attention." Bo Moody, a tall and tanned 14-year-old, is a repeat attendee. "I did the junior lifeguard program last year, too. Running is a lot easier this year. I've been surfing every day, paddling around, and that helps." His favorite part of the program? The Jet Ski rescue training.
"At the end of the summer, there's a championship held for all the juniors, with competition on board races, swimming and running. We have kids from Maui, Kauai, all over," says Shannon. For young women interested in a career like hers, Shannon tells them, "Train! Become well rounded in ocean awareness. Get into a sport like body-surfing or board surfing."
When she tells people she's a professional lifeguard, people inevitably bring up that bastion of bosoms, Bay-watch. True, it's the only exposure to ocean lifeguards most civilians have had, but it's a little annoying, Shannon concedes. "They mean it as a compliment, but I try to remind people that Baywatch is Hollywood. I'm the real thing."