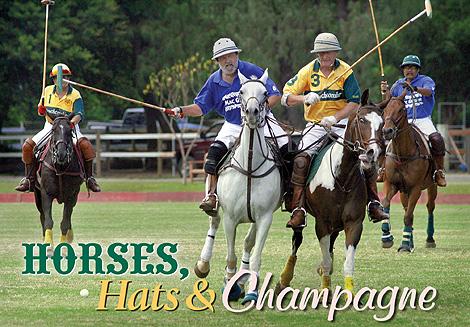 Photo: John Baer


By: Mary Young
Oahu Island News

"E noho 'ana polo," urges the Honolulu Polo Club: "Celebrate the polo lifestyle." Polo is one of the world's fastest sports, a contest of horsemanship, strategy and raw nerve. Fans say watching it is an addiction.

But what is the polo lifestyle? Does it involve being wealthy and getting all dressed up for a sporting event?

Not in Hawaii, says Allen Hoe, president and co-founder of Honolulu Polo Club. "For us, the polo lifestyle is the relationship of horse and sport and player," he says, "And more of a cowboy spirit or paniolo spirit, versus the champagne, etc., etc."

Still, if you're going to a Sunday match at the club's Waimanalo field, champagne and a fancy hat are not out of place. Whether you're attired for a rodeo or royalty (most people dress casually), picnicking is part of the experience. Spectators tailgate along the field's edge or climb into the shaded comfort of the bleachers. Regulars who are akamai arrive early enough to claim a table.

For d.j. Colbert and her friends, dressing up for Sunday afternoon polo is a cherished tradition. Colbert was wearing a broad-brimmed red hat with her white suit and matching pumps at a recent match. "I love to come out here," she said. "I mean, look, you get to put a great hat on, and there's great food. It's an outdoor sport. It's the perfect thing for a Sunday."

The club is looking for a permanent announcer, but in the meantime the players take turns in the announcer's booth. Besides calling the plays, the announcer urges the crowd to patronize the concession stand (all proceeds go to Therapeutic Horsemanship of Hawaii Inc.). Bob Miller, a director and co-founder of the club, sprinkles his commentary with jokes, Oscar Wilde quotes and even a scolding for an overly rambunctious player.

Maintaining a friendly co-existence with Honolulu Polo Club is its counterpart on the North Shore, the Hawaii Polo Club. As the club with more commercial sponsorship, Hawaii Polo Club is able to present half-time entertainment such as horse races, rugby matches and skydiving exhibitions. "We call it a social event, a sporting event and a day in the country," says Michael Dailey, the club's president. Concessions and music are also featured at the Hawaii Polo Club field, located oceanside at Mokuleia.

Hoe and Dailey both describe the Honolulu Polo Club as the more laid-back of the two. Dailey sums it up this way: "I think the Honolulu Polo Club is more of a player's club. It's a little more relaxed and it's a great place for new players to get started."

Polo is a rough-and-tumble game, yet many people associate it with upper-class refinement. The danger comes with riding 1,000-lb. animals at full tilt while swinging mallets at a ball the size of an orange. The aura of money has to do with the ponies (actually full-size thoroughbred horses). "It's very expensive – not so much in terms of money, but just in terms of time," says Hoe. "It takes so much time in care and management of the horses."

The rules of play are simple. There are four players on a team, each assigned a specific position and wearing a numbered jersey. Play proceeds in four 7-minute periods called chukkers. Because the horses run at high speed for most of the game, riders change to a different horse for each chukker. Generally there are no rider substitutions during a match. One set of rules governs polo, so men and women compete on equal footing.

The object of the game is to score as many goals as possible. The central concept is the ball's trajectory as it moves down the field toward the goal. The imaginary line that extends forward and backward from the ball sets up a right-of-way in favor of the players who are traveling in or parallel to the line. With each hit, the line of the ball changes. Crossing the line is an infraction, but there are various legal ways to gain control of the ball; a player may use his mallet to hook the opponent's mallet while swinging for a hit, for example, or horse and rider can lean into the side of the opponent to ruin the shot. Penalties are based on the severity of the foul, with a free hit given to the team fouled.

Polo originated in Asia more than 2,000 years ago. The word "polo" came from the Tibetan word "pulu," meaning "ball." It probably developed in Persia (modern Iran), the first country to domesticate horses and use them in warfare. Games on horseback were used to train cavalry soldiers; a polo match could be a deadly endeavor, sometimes involving hundreds of players who hit objects as varied as balls, small goats or decapitated human heads.

As the Persian army conquered other lands, officers continued to play in countries it occupied. The game became an opportunity for members of the ruling classes to show off their athleticism and equestrian skills. Versions of polo sprang up and spread across the continent. By the Middle Ages, it was played widely throughout Asia. When the British conquered India, their soldiers adapted and standardized the game and took it back to Europe, where it became a social pastime for the wealthy classes.

Visiting British officers introduced polo in Hawaii as far back as the 1880s. And the paniolos helped keep it alive.

"The interesting thing is early on, Parker Ranch, when they started getting really serious about their cattle business, they made a great investment in terms of their horse breeding programs," Hoe says. "Thoroughbreds were proven horses in terms of stamina, speed and agility." Ranch hands played polo on a regular basis. "It was something natural that cowboys would do in addition to the western type of rodeo sports."

It caught on, and by the early 1920s, Hoe says, "Hawaii with the big five families had developed quite an international reputation in terms of polo."

Among the visitors who played polo on Oahu were Will Rogers and Gen. George S. Patton. Patton played frequently when he was stationed at Schofield Barracks prior to World War II. Years later, in 1974, Britain's Prince Charles stopped in Hawaii and played local players on the field at Mokuleia. Some of the players are still active today, including Dailey and Honolulu Polo Club's Mike Ebinger. The prince was on a navy cruiser at the time, recalls Dailey. "So he got a break, came in, stayed at my dad's hotel and just relaxed here in Hawaii for a few days and had a weekend of polo," he says.

This year, the Hawaii Polo Club celebrates 40 years of operation at Mokuleia. Before that, Oahu polo was played in Kapiolani Park, where the Hawaii Polo and Racing Association had begun in the late 19th century.

The Waimanalo field, home to the Honolulu Polo Club since 1986, was a watermelon field and later a garbage dump before the club began leasing it from the state.



One of the Honolulu Polo Club's most popular tournaments is the annual Wahine Challenge, which will be held August 8 and 15 at the Waimanalo field. The benefit event is co-sponsored by Colbert and polo player Alice Lombardo. "We wanted to introduce women to polo here on the island as players, so that it would inspire young women to come and learn the art of polo," says Colbert. Players from New Zealand and the neighbor islands are expected to compete this year, along with wahine from Honolulu Polo Club. The Wahine Challenge will celebrate women in polo with live music, refreshments, and raffles, says Colbert.

And naturally, there will be a hat contest.