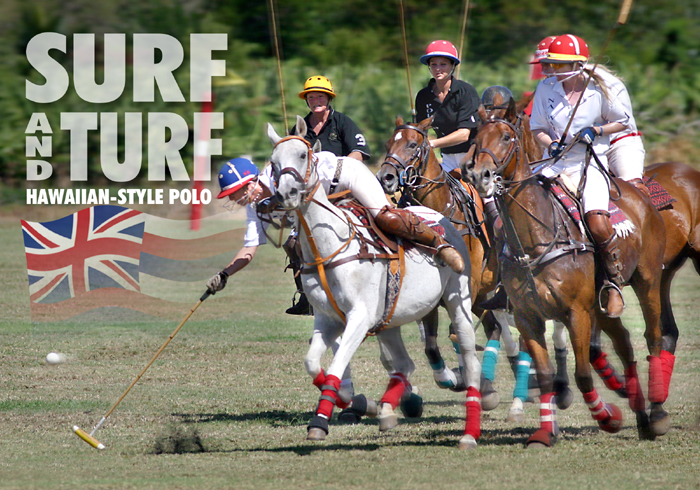 PHOTO BY JOHN BAER
By W. Knox Richardson
"Crossing the line" often means making a social gaffe, although some historians believe the idiomatic expression is linked with passing over the earth's equator. Actually the phrase is much older than Captain Cook and has more to do with hitting a white ball — from atop a galloping horse — with a long-stemmed mallet. "Crossing the line" comes from the ancient Persian game of polo and it means a rider has passed over the imaginary line created along the path of the ball after a player has struck it. It is a basic foul, much like asking a woman her age — unless she is a member of the Red Hat Society.
While this may seem a just a bit of sports trivia, it is more than you need to know to enjoy a tropical day of socializing and picnicking at one of two polo fields on Oahu and watching the fast-paced matches held each lazy summer Sunday afternoon. Both fields are very open to the public and everyone is invited.
Polo was once called the "sport of kings." With the demise of monarchies, ordinary people — both participants and spectators — have continued a tradition of excellence in horsemanship and camaraderie that transcends royalty and beckons kama'aina and tourists alike to enjoy a spectacle heretofore reserved only for those who bought and sold small countries.
Here on Oahu "commoners" now carry on the traditions of the game, but there is nothing common about either the sport or the traditions that makeup some of the fun in attending a match. Although most attendees come attired for a casual picnic, there are those who follow the optional convention of dressing up. They come not just in their Sunday finest, but are attired as if King Kalakaua were himself in attendance.
The two polo clubs are The Honolulu Polo with its own facility on the verdant, windward side of Oahu in the heart of sleepy Waimanalo, while the Hawaii Polo Club plays at a beachside sports ground at Dillingham Field near Waialua town on the North Shore. While both offer great matches, regulars report the Hawaii Club is more commercial than its Honolulu counterpart. Such distinctions are generally lost on the casual observer as the speed, pace of play and quality of horsemanship transcend any comparison.
Among those who adhere to the traditions of Her Royal Majesty's polo are members of the International Grand Lady's of Waimanalo Polo Red Hatters, a local chapter of the international Red Hat Society, a social order of women past the half-century mark who refuse to slow down or even acknowledge that age is in any way a factor in choosing what activities to participate in. Alice Lombardo, the founder of the chapter, even wears a red helmet as she rides in the matches in Waimanalo.
For "d.j." Colbert and her friends, dressing up for Sunday afternoon polo is a cherished tradition. Colbert was wearing a broad-brimmed red hat with her white suit and matching pumps at one match last year. "I love to come out here," she said. "I mean, look, you get to put a great hat on, and there's great food. It's an outdoor sport. It's the perfect thing for a Sunday." This year she wore an equally elegant ensemble, capped with a broad-brim ladies' chapeau suitable for Wimbledon.
The Hawaii Polo Club presents half-time entertainment such as horse races, rugby matches and skydiving exhibitions. "We call it a social event, a sporting event and a day in the country," said Michael Dailey, the club's president. Concessions and music are also featured.
On the other hand, the Honolulu Polo Club with its own leased facility in Waimanalo tends to be more social, intimate and overflowing with aloha toward anyone who enters its gate. Proceeds of the Waimanalo events go to Therapeutic Horsemanship of Hawaii, a tax-exempt, non-profit organization that provides recreational horseback riding for handicapped children and adults.
Your first polo experience in the Honolulu Polo Club in Waimanalo can be quite easy and fun. The main entrance to the field is just off the Kalanianaole Highway – mauka-side directly across from the McDonald's Restaurant. From there you are directed to drive onto the grassy field itself toward an open stand of seats along the far side of the playing field. You can park and use your car as a personal air conditioned padded bleacher, join others picnicking on the neatly manicured turf or wander up to the roomy grandstand where refreshments are served. Unlike a state park, you can bring a cooler with adult beverages and make a whole day of it for only $3 per adult, with no charge for children under age 18. Military with ID are also admitted free.
One of the Honolulu Polo Club's most popular tournaments is the annual Women's Challenge, which will be held Sun., Aug. 14 at 2 p.m. at the Waimanalo field. The benefit event is co-sponsored by Colbert and polo player Alice Lombardo. "We wanted to introduce women to polo here on the island as players, so that it would inspire young women to come and learn the art of polo," says Colbert. Players from New Zealand and the neighbor islands are expected to compete this year, along with women from Honolulu Polo Club. The Women's Challenge will celebrate women in polo with live music, refreshments, and raffles, Colbert said.
But what about this famous "polo lifestyle?" Does it involve being wealthy and getting all dressed up for a sporting event?
Not in Hawaii, said Allen Hoe, president and co-founder of Honolulu Polo Club. "For us, the polo lifestyle is the relationship of horse and sport and player," he said, "And more of a cowboy spirit or paniolo spirit, versus the champagne."
Last year, the Hawaii Polo Club celebrated 40 years of operation at Mokuleia. Before that, Oahu polo was played in Kapiolani Park, where the Hawaii Polo and Racing Association had begun in the late 19th century.
On the field, the rules of play are simple. There are four players on a team; each assigned a specific position and wearing a numbered jersey. Play proceeds in four, seven-minute periods called chukkers. Because the horses run at high speed for most of the game, riders change to a different horse for each chukker. Generally there are no rider substitutions during a match. One set of rules governs polo, so men and women compete on equal footing.
The object of the game is to score as many goals as possible. Don't cross the line while the ball is still moving. Beyond that, it is like hockey — only bigger and faster.
For keiki, a match is an inspiring display of horsemanship in a game they can easily understand –- without an X-Box. For adults, polo refreshes the soul better than a country preacher. Not to mention the pallet and tummy. And it definitely beats any day at work. No wonder this game took off in Hawaii. You're outside riding horses while playing keep away — eating and drinking with family and friends –- just for the bragging rights. What could be more Hawaiian?
— Associate Editor Mary Young contributed to this article.