.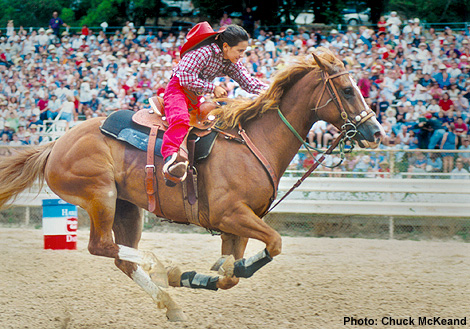 ..............Shelby Rita competes in the 2002 keiki barrel race.

Rodeo! Hawaiian Style

By: Patrick Ching
Special to the Oahu Island News



"What?

Y'all got Rodeo
in Hawaii?

Wow!"

It's a surprise to many visitors that there are Hawaiian cowboys and cowgirls, and even horses and cattle, much less real live rodeo in Hawaii.

Over 200 years ago English ship captains George Vancouver and Richard Cleveland brought the first cattle and horses to Hawaii. This was the origin of the Hawaiian Cowboy – now called Paniolo.

Years before there were ranches in the continental United States, Hawaii's Paniolo were becoming experts at wrangling and roping cattle from horseback. Cattle ranches were soon established throughout Hawaii even before they sprawled across the continental United States.

On special occasions cowboys and their families would gather to compete in friendly contests of ranching skills – bronco (wild horse) riding and cattle roping. The first recorded organized rodeo was part of a 4th of July celebration in Prescott, Arizona in 1864. Since then, rodeo has been one of America's most time honored 4th of July traditions.

The word "rodeo" was originally a Spanish word referring to the corral where the wild horses were kept.

Hawaiian rodeo is especially unique as the excitement and action of the sport is combined with island traditions and a proud history. Island ranchers and their families hone their skills year-round in anticipation of the rodeos that take place throughout the state. Most of Hawaii's rodeos take place in the summer months when the weather is dry and the days are long. The biggest rodeo day in Hawaii is the 4th of July holiday, as in the rest of the U.S.A.

In the state of Hawaii, Independence Day means BIG RODEO as cattle and horse folk gather at rodeos big and small to perpetuate "America's sport". The Big Island's Parker Ranch Rodeo and Maui's Makawao Rodeo have been annual celebrations for nearly fifty years.

Currently on Oahu, a dedicated crew of cowboys and cowgirls are in the process of building a world-class event known as the 4th of July All Star Rodeo, which is held at the New Town and Country Stables in Waimanalo – Hawaii's premier rodeo grounds. These grounds feature the state's best string of bucking bulls and livestock. Not only do they hold wild animals, but sometimes they hold an even wilder crowd.

On July 4, 2002 an overflow rodeo crowd packed the 4,500-seat New Town and Country Stables. It was the largest rodeo crowd at a single performance in Hawaii since eight-time world champion bull rider Donnie Gay rode the great bull "Rocky" back in 1987. Spectators at the rodeo ran the gamut, from local ranchers and residents, to military personnel and a large tourist contingency from around the world. And all were here for one reason – to witness the spectacle of Hawaiian rodeo.

That crowd was treated to a first class show. It began with a heart-tugging grand entry followed by a five-at-once wild cow ride. Then the crowd watched bareback bronco riding, keiki barrel racing, adult barrel racing, and match barrel racing – an elimination event that matches two-barrel racers at a time. Then came the wahine steer undecorating, an event in which women riders took taped ribbons off of running steers from the back of their galloping horses, yet another use for duct tape!

The two-man team roping was followed by the double mugging event in which a rider on horseback lassoed a large steer, and then tries to wrestle it down with the help of his partner already on the ground. Pandemonium broke loose as the cowboys were often the ones left in the dirt.

The rodeo events were called by announcer Cory Gibson, son of stable owners Bud and Katy Gibson. Cory's longtime knowledge of Hawaiian rodeo and his personal relationships with the athletes and the animals make him well suited for his difficult job. Country radio personality Charlie Garrett teamed up with Cory to make sure that the rodeo fans knew what was happening, that the sponsors were well recognized, and that everyone was enter-
tained at all times.

The action was sometimes interspersed with clown acts, a clown dress-up dance contest where contestants dressed as rodeo clowns danced for the crowd to the tune of "Cotton Eye Joe". And of course, the ever popular stick pony race in which a stampede of young cowboys and cowgirls wielding decorated stick ponies compete in a wild race for the grand prize which is… well…nothing!

Then came the main event.

"How many of you came to see the bull riding?" hollered announcer Cory Gibson. The crowd was deafening as the gates cracked open and unleashed the beasts that make the Waimanalo Rodeo famous. Within seconds, dust, hoofs and cowboy hats flew in every direction.

Bulls with names like "Air Wolfe", "Predator", "Freight Train", "Battle Zone" and the legendary bull "Rocky" have all bucked here, and so have some of the best bull riders in the world, including Lane Frost, Ty Murray and Tuff Heideman.

When the dust settled on this day, the bulls of the Rocker "G" Live Stock Company were undefeated. They had bucked off Hawaii's best bull riders, but there was one last chance for cowboy redemption – Cowboy Hula Bull.

As the cowboys slowly entered the arena, the bull fighters cheerfully fitted them with protective vests, hula skirts and plastic flower leis. Rubber hoops were placed on the ground and each cowboy stood inside the hoop. "The last one still in your hoop wins!" sounded the announcer. And with that, the bull fighters gave the cowboys one last aloha hug and the gate burst open and out came "Smokum", a fierce, large humped, rippling muscled, brahma bull into the ring.

The crowd went insane as Smokum selected and attacked his victims one at a time. Some cowboys ran out of the arena, some of them flew out. In the end, one man was left with all his body parts, a few hundred dollars and a great story to tell his future grandkids.

Special contests you may want to enter while at the 4th of July Rodeo are the Country Dance Contest, the second annual Mountain Oyster Cook Off, and the Cowboy Hula Bull.

Kids can bring a stick pony (or even get one at the rodeo) and enter the stick pony races. They can also dress up like a rodeo clown and enter the clown dance contest.

Some of the rising stars to watch for this year are eleven-year-old Shelby Rita from the north shore. Champion of last year's keiki barrel races, Shelby will be competing in the keiki and adult barrel events. Shelby's picture is featured on the cover of this newspaper as well as all over this year's Rodeo Poster and t-shirts. Handsome Jason Lau, 20 years old, is an all-around cowboy from Waimanalo who'll be entered in several events including bronc and bullriding. Jason is also a polo player and farrier.

Then there's Chris Dudley, a freelance writer, who rode his first bull as part of an award-winning story he wrote for a local newspaper. Chris is a farrier and musician on the brink of stardom. Chris will debut as the clown 'Jed Jed'. Look for the bright orange shirt – the bulls certainly will.

Due to the overwhelming crowd at last year's show, this year's rodeo will be held on two days starting on July 4th with the finals on July 5th. Gates open at 1 p.m. and the rodeo starts at 3 p.m. on both days. There will be plenty for fans to enjoy before, during and after the rodeo such as pony rides, great food, games, soft drinks and beer. Shoppers will have a great opportunity to scoop a vast selection of western hats and gifts – especially the coveted 4th of July Rodeo Collector's shirts and the newly released 2004 Hawaiian Rodeo Calendar.

This year's rodeo is a benefit for therapeutic horsemanship of Hawaii, Hawaii High School Rodeo Association and Naturally Hawaiian's Art Center in Waimanalo. This year McKenna Motors and The Shack Restaurants will be the title sponsors of the 4th of July All Star Rodeo. For information on tickets, entries and sponsorship call 259-5354 or visit www.naturallyhawaiian.com.