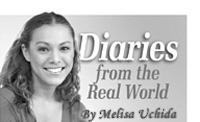 "Da Rulz" about living in Hawaii.

There's an underlying, unspoken cultural etiquette to living in the Aloha State, and if you're not local, these rules can be totally confusing. Actually, they're confusing, even if you are local.
Maybe it's an Asian thing, maybe it's a Hawaii thing or maybe it's just an Uchida thing, but we have some strange customs. There's no manual or handbook – you're just supposed to know "da rulz." I'm a local girl and don't even know all "da rulz," I can't imagine what it's like for a visitor or mainland transplant.



My grandpa and I were washing my car the other day in his condo's community parking lot. Even though there were lots of open stalls, he moved his car out of his assigned stall and onto the street so I could park in his spot and use the water hose. Rule 1: NEVER park in a neighbor's spot, regardless of how long you'll be there or whether you'll be with the car.

So my grandpa's spraying down the car and I'm scrubbing it and laughing and chatting away about my grandma, Mother's Day, my new boyfriend and other stuff. "No talk while you wash da car," he said sternly. I looked up at him, "What are you talking about?" I asked, slightly confused. "No talk while you wash da car," he repeated. "Everybody can hear you. Just wash." Rule 2: Respect the neighbors. Always think about the people around you – especially neighbors that you see every day.



I had never heard of this rule, especially on a Sunday afternoon at 4 p.m. But I had also never heard of going 45 mph in the left lane on the freeway until I moved back from Boston, or letting all the other cars go before you at a four-way stop, or NEVER showing up at a barbecue without a pupu or dessert, or not talking on a cell phone in confined places.



There are hundreds of these unspoken rulz, and I generally like them, minus the road rules. They teach us consideration and help make life just a little more pleasant. If we all lived by these local rulz and just slowed down a little, thought about the people around us more, popped our heads up from our own drama and looked around, the world would be a better place.

The problem is we don't. I never thought talking relatively loudly in an outdoor parking lot on a Sunday afternoon at 4 p.m. would bother anyone, but that's where "da rulz" come in, and although many of them are kinda bizarre, or confusing, or even annoying, these are "da rulz" that make this place so special, and definitely make me a better person for trying to live by them.