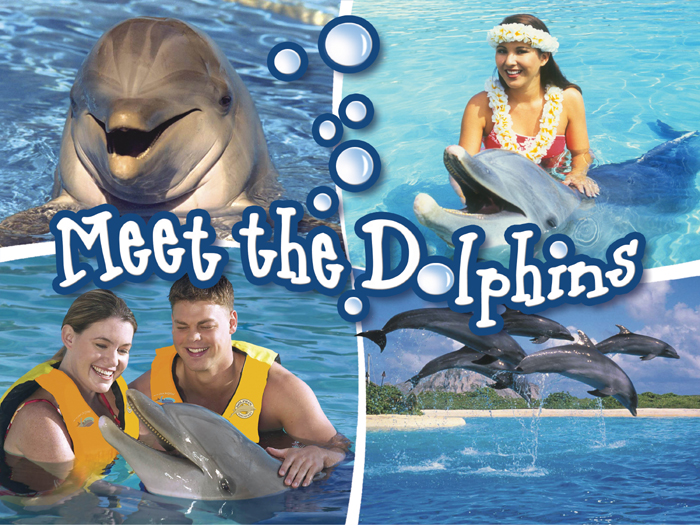 By Mary Young
What's a Humuhumunukunukuapuaa? A dance craze? A new volcano? No, it's a tiny fish with a big name that means "fish with a face like a pig." Also called reef triggerfish or Rhinecanthus aculeatu, this odd-looking species with distinctive black tail markings is Hawaii's state fish. If you want to see a humuhumu – or experience other marine life around Oahu – there are many ways to do it. It all depends on your personal preferences, age and fitness level, and how much you want to spend. Here is a sampling.
(Kamaaina rates are available for most activities.)
Get into the water
If like fish but you are looking for an up-close encounter with your favorite marine mammal, Sea Life Park by Dolphin Discovery is the high-end choice. The park's 300,000-gallon Hawaiian Reef tank has over 1,000 reef animals and organisms, including sharks, sting rays, turtles, and tropical fish. With an advance reservation and $89.96 plus tax, you can descend into the tank to feed the fish and take pictures. You will be wearing a wetsuit and special headgear that allows a crystal clear view and even keeps your hair
dry. (If you get a photo of the elusive humuhumu, the Park has a special reward for you.)
Sea Life Park also has programs for interacting with larger animals in the water. Dolphin Adventures participants get to touch and swim alongside the animals and learn about training techniques. Available to those 13 years of age or older, Dolphin Adventures costs $139.96 and includes admission to all of the park's shows and exhibits.
The Dolphin Discovery Swim is a new program that allows children and adults to feed the dolphins and observe them up close. "It's the only program that I'm aware of here in Hawaii that allows kids of all ages to swim with dolphins," said Dr. Renato Lenzi, the park's general manager. "Younger kids need to be with an adult to help them in the water, but it's really fun to just watch younger kids to go in the water with them and interact."
The park recently introduced a Swim with the Sea Lions program. Lenzi said most people are a little hesitant about getting close to a sea lion. "But once we point out how adorable these animals are and how loving they are, they are just thrilled to be able to swim with them in the water and enjoy them," said Lenzi.
The facility has a variety of educational programs for youngsters and families as well as daily shows featuring dolphins, penguins and sea lions.
Sea Life Park's focus on education and entertainment is balanced by preservation efforts such as the bird sanctuary, where injured marine birds are nursed back to health or kept in the protection of the sanctuary. Birds residing at the sanctuary include great frigates, boobies, shearwaters, and albatross.
Also at Sea Life Park is one of the nation's few programs for breeding Hawaiian green sea turtles (honu), an endangered species.
If you're looking for a bit more adventure and thing it is safe to go back into the water, you might consider going into the ocean with one of the swim-with-dolphins companies. Dolphin Excursions, for example, will take you on a "personalized wildlife adventure" to snorkel and swim among spinner dolphins. If you really want to get the adrenaline pumping, you should know that there are Shark Encounters available. A short boat ride from Haleiwa Harbor takes you to shark grounds, where for $100 ($50 for children) you will be lowered inside a Plexiglas-encased cage among circling sharks – typically Galapagos or sandbar sharks.
Hanauma Bay is home to over 450 species of tropical fish
Once the private fishing grounds of the alii, Hanauma Bay has long been Oahu's favorite snorkeling spot. About 3,000 people visit Hanauma Bay Nature Preserve every day, down from a peak of 10,000 daily in the late 1980s. To protect the bay from such overuse, fish feeding has been banned; smoking is no longer allowed; and car and foot traffic are closely controlled. Even so, said facility manager Alan Hong, "We have an overcrowding problem, which is why we have so many restrictions."
If you go to snorkel, remember to take your fish ID card – laminated ones are available at the gift shop and other places around the island – and see how many fish you can identify. To beat the crowds, avoid the middle of the day; come when the park opens at 6 a.m. or just before the 7 p.m. closing time. Early morning is the best time to spot a honu.
Before you view the short introductory film and hike down to the beach, spend a few minutes exploring the visitor center. Interactive displays with colorful pictures of marine species will whet your appetite for snorkeling. Or, go there after you're out of the water while the fish you encountered are still fresh in your mind.
In addition to learning about fish, invertebrates, and marine mammals, you will get a mini-education on how Hanauma Bay was formed, the varieties of coral that live there, and the interdependence of species within the reef ecosystem. An invertebrate ID card will be available soon so you can identify such species as urchins, jellyfish, and moray eels.
Hanauma Bay entrance fee is $5 per non-resident 13 years and older; residents with photo ID are admitted at no charge. Parking is $1 per vehicle. Closed Tuesdays.
Stay on land
Waikiki Aquarium has an impressive array of coral and sea life exhibits, but there is much more to the Aquarium than the average day visitor sees. Classes for children and family groups include reef walks, an after-dark flashlight tour of the exhibits, and much more. In June and July this year, the educational staffs of Waikiki Aquarium and Hanauma Bay Nature Preserve will offer Marine Science Aquanauts, a week-long marine biology class for youngsters age 8 to 14. Waikiki Aquarium instructor Mary Roney said classes will be taught at both sites, and there will be a high instructor-to-student ratio. "We do a lot with snorkeling and marine life identification, so the kids need to be a good swimmers," said Roney. The class will be taught June 20-24 and July 18-22.
Eat and shop
If you're going nowhere near a beach or an aquarium, there are still places to view reef- dwelling species. The Pacific Beach Hotel in Waikiki has a 280,000-gallon aquarium, the Oceanarium. Recent additions to the 70 species already living in the Oceanarium include a spotted eagle ray and a pelagic stingray. You can view the Oceanarium from any of the hotel's three restaurants.
Also in Waikiki, the DSF Galleria features the Tube, a two-stories-tall aquarium that surrounds the staircase at one corner of the store. Passersby on the sidewalk can see the fish, but the best viewing is from inside the Tube.
Another way to view local fish is simply walk down to the harbor and look down into the water. You'll be amazed, and maybe even see a Humu.