.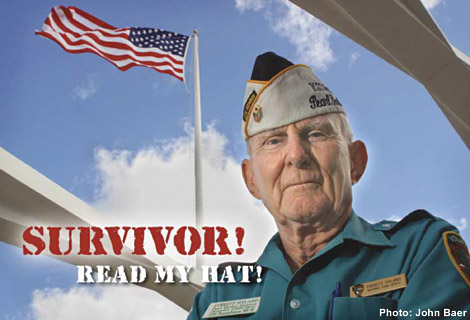 ................Everett Hyland, WWII veteran and Pearl Harbor survivor at the USS Arizona Memorial.

By: Kathryn Drury
Oahu Island News



I'm sure many people ask Everett Hyland what the morning of December 7, 1941, was like – but I'm not about to. Gee, Mr. Hyland, tell me about how you were above deck on the USS Pennsylvania when the bombs fell during the attack on Pearl Harbor. How it was early one Sunday morning when the sky unzipped and hell slid onto your head. How the ships around you started exploding and ripping open from their own ammunition igniting. Men trapped underwater, and above, billowing smoke. You were so badly wounded that you were almost given up for dead; you didn't even know where you were until Christmas. How you were only 18 years old. No, I'll leave that part alone. I'll just ask you who you are.



For a guy who just celebrated his 80th birthday and has survived cancer, not to mention horrific war wounds and numerous resulting surgeries, Everett Hyland remains a man very much in the prime of his life. Trim, with white hair, he looks younger than his years. He energetically greets his coworkers at the USS Arizona Memorial, where he is a volunteer. He's the kind of guy who answers, "Fantastic!" when people inquire as to how he is that day, the kind of guy who jokingly claims to volunteer at the memorial solely for the purpose of checking out the young, shorts-clad tourists. He is proud to be the only survivor who takes part in the yearly water cleanups, done around the submerged battleship Arizona. "I don't do much, to be honest, but I put on my wetsuit and get in there!"

After a childhood growing up in the Northeast, Everett Hyland followed his brother – who was two years older and had enlisted as a marine sergeant – into the military. Before World War II, Everett explains, "Enlisted men were considered 'bums', you couldn't go into certain areas or restaurants." Still, Everett enlisted in November of 1940 and went through radioman's school in San Diego, California. His brother – his only brother – was later killed at the Battle of Iwo Jima.



A Radioman 3rd class, U.S. Navy Retired, Everett has volunteered at the USS Arizona Memorial since 1995 and as a survivor, helps relate the Pearl Harbor story to the 1.5 million visitors who pass through each year. He says the National Park Service, which runs the memorial, is flexible about what the volunteers choose to discuss, but as most people only want to see the Arizona – one portion of the memorial but the best-known icon of Pearl Harbor – he focuses on that. He seems puzzled by the visitors who come, seemingly out of duty, but who neglect to read any of the signs about history or the people involved. He especially hates it when visitors ask him, "Were you here when they bombed Pearl Harbor?" Not only is he wearing a color-coded teal shirt that helps clue them in, he says, "It's on my hat: Survivor! Read my hat!"

"The best way to describe Everett is that he's a representative of that WWII era," says Brad Baker, public affairs officer at the memorial. "So many people from that time went through terrible ordeals, but they came back, put it behind them and built America. And that's how Everett is. He pushes away the idea that he did something special; he doesn't present himself as a hero. And that's important, because so many of the movies we see glorify it. He shows the honest perspective. To him, he was just doing his job."

When asked how becoming a veteran affected the course of his life, Everett shrugs. "Veteran? It's just a word. There are 16 million WWII veterans, and now with the military over in Iraq, as soon as they step out of uniform, they will be veterans."



On the morning of the attack on Pearl Harbor, Everett was aboard the USS Pennsylvania; nicknamed the "Pennsy". The ship was in dry dock, undergoing maintenance. Everett's duty as a seaman included antenna repair, so he was above deck when the Japanese raid started. He and the crew responded by bringing ammunition out onto the deck to arm the 3-inch, 50-mm anti-aircraft guns. After two hours of torpedoes and bombs, the attack on the U.S. Pacific Fleet was over, strewing behind it the Arizona, destroyed beyond repair; the Oklahoma, which capsized; the West Virginia and California, resting on the bottom of the harbor; a nation at war; over two thousand dead; nearly two hundred demolished planes, and one Everett Hyland, of Stamford, Connecticut, barely alive.



After nine months of rehabilitation, Everett returned to sea, serving aboard the USS Memphis and also at the Naval Air Station in Charleston, South Carolina. He was discharged from the Navy in November, 1945, after earning seven campaign ribbons for involvement in the Asia-Pacific, the Atlantic, and the European-African theaters, as well as a Purple Heart, awarded to members of the armed forces who are wounded in combat. When he left the military, he had no way of foreseeing that one day his granddaughter, Annamaria, would stand before him at her 1996 graduation from the U.S. Naval Academy. A lieutenant, she is currently stationed in Asia, and Everett smiles most broadly when he is talking about her.

After teaching science and living in Nevada for many years, Everett met his current wife, Miyoko. She was working for a Japanese travel agency and he was in Hawaii for the 50th anniversary of Pearl Harbor. "She's a new model," he jokes, as he was married previously. She is now an employee at the memorial. The couple travels to Japan every year. "I go for the hot springs and to see Miyoko's family," he explains. "We go every October when the leaves are turning colors and the air is cool and the springs are hot. It's wonderful." As he describes the hot springs, he looks completely transported and I can see Japan through his eyes: the steam from the hot-spring bath (onsen) rising, the snow-topped mountains off in the distance, the glow of yellow leaves fluttering downwards – it is a lovely vision. In Japan, baths are about more than cleanliness; an important cultural element, the daily ritual of a bath signifies purification, relaxation and family connection. It is a centuries-old way of soaking the world's troubles away and emerging renewed in both spirit and body.

Everett is one of the many veterans and civilians who are able to harbor no resentment after war, but certainly not everyone can let go. For example, he met a retired military man recently at the USS Arizona Memorial who looked around and asked him, "What are all these Japs doing here?" "I told him, "They are Japanese," said Everett, "and I thought, 'you've been sick for this many years?' It's the business (of war); it's not personal."

As part of his activities as a Pearl Harbor veteran, Everett places a wreath at the Arizona Memorial during ceremonies held each year on December 7th. He explains that Jiro Yoshida, a former Zero Fighter pilot with the Imperial Japanese Navy, now joins him in placing the wreath during the ceremony.



Like many of the Pearl Harbor survivors, he has participated in several symposiums, such as one on the 60th anniversary of the attack at Pearl Harbor held in 2001, which brought together American veterans and Japanese Zero pilots.

Everett's former adversary was a man named Otawa. "I had dinner with the guy who put me in the hospital for nine months," Everett says matter-of-factly. At the dinner where the two men met, with his wife Miyoko serving as the translator, they discussed the attack and came to the conclusion that Otawa had most likely been the pilot who had bombed the Pennsylvania. They will never be totally certain; it was hard for pilots to know exactly where the bombs they had dropped landed. Those were the days of gravity release, rather than the precision target-seekers of today's warfare. Obviously not harboring any ill will, Everett points at his hat, which has a small pin on it of the American flag and the Japanese flag, intertwined. "He was just a young guy doing his job."

"Wars are crazy," he says. "I'm not going to go with a sign or anything, but I spent 28 years in a classroom and I used to tell the kids that whether you are killing someone in a war or killing them on a street corner, there are better ways to solve problems." He tells the story of how one of his students, about to go on a family trip to Europe, explained that he needed to see the places of his heritage before there was another war. "I asked him if he thought there was going to be a war, and he said, 'Mr. Hyland, why would the next 2,000 years be any different from the previous 2,000?'"

Today, Everett Hyland lives in an Aiea Heights house that overlooks Pearl Harbor. But when asked about the symbolism of this, he sees not a place where he nearly died, but merely a nice view, a stretch of water. He seems more excited about the ofuro – a large Japanese tub – built into his house.

The USS Arizona Memorial visitor center is open 7:30 a.m. to 5:00 p.m., seven days a week. Run by the National Park Service, tours start every 15 minutes and are free; tickets are distributed on a first-come, first-served basis. For more information, call (808) 422-0561. A Memorial Day Ceremony, held from 7:45 a.m. to 9:00 a.m., is open to the public.