.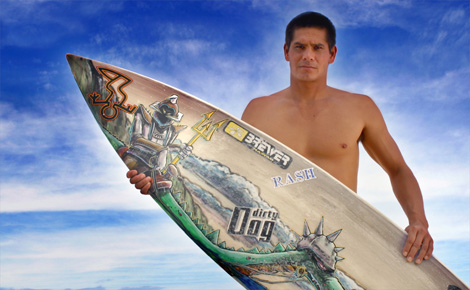 Photo: John Baer/Oahu Island News
Defending His Crown
By MARSHALL WHITFIELD
and TRACY CABOT
Special for the Oahu Island News
The Vans Triple Crown of Surfing draws the world's best surfers to the North Shore each fall. The Rip Curl Cup, held at Sunset Beach, is second of the three events. Last year, the wave faces were sixteen to twenty feet. There were great rides – powerful bottom turns and graceful arcs – with wild cheers from the spectators.
And lots of groans and wincing at the wipeouts. In Sunset's shifting peaks, it's always easy to misjudge a wave. In addition, strong, gusting tradewinds that day were catching surfer's boards as they took off. One-third of a mile out, the World Championship Tour's best surfers were getting hammered. By the end of the 2nd heat, local boy Myles Padaca was also thrashed. He had fought his way into the Rip Curl the hard way, by out-surfing 31 other hungry competitors in the prior qualifying round to seize one of the Rip Curl's only two wild card slots. It had taken a lot out of him.
Myles was beat up and aching. But he sensed that this was his day. He had started out as a long shot, and then had taken third place in the first Triple Crown event, the Hawaiian Pro at Haleiwa's Alii Beach Park. Now, going into the Rip Curl's final heat, he was suddenly in contention.
Most important, he was in his own backyard. Sunset Beach is his home break. No one knows it better.
And he proved it to the world that day, beating Australian Mick Lowe in an epic final heat. He became the first non-World Championship Tour surfer ever to win the Rip Curl Cup.
Myles didn't place in the Triple Crown's last event, the Xbox Gerry Lopez Pipeline Masters. Nevertheless, his third place in the Hawaiian Pro plus his first place in the Rip Curl proved unbeatable, making Myles Padaca the 2001 Triple Crown of Surfing champion.
It's been said that Myles "surprised everyone" by winning the Triple Crown, but there were a few locals who weren't at all surprised. At 31, Myles is a classic example of someone who's worked his whole life to be an "overnight success."
He could win again this year. After all, Sunny Garcia won the Triple Crown three years in a row. So it can be done.
But while Myles is the current champ, he'll also have to play the role of the come-from-behind kid again this year, because he broke his leg last January and missed most of this season. The accident occurred in a tow-in session at Phantoms, and the broken bones got mangled while the jet ski dragged him out of the impact zone with his broken leg flopping behind him. As a result, the leg didn't heal properly in its cast, requiring further surgery after three months, so Myles was out of the water for six months in all. Nevertheless, he's had four months now to surf his way back into shape.
The Vans Triple Crown of Surfing, which will be held between Nov. 12 and Dec. 20, celebrates its 20th anniversary this year. This longest running and most famous professional surfing competition in the world boasts a record purse of $750,000.
For the world's top surfers, there's nothing remotely like the Triple Crown. Much more than money is at stake. Sanctioned by the Association of Surfing Professionals (ASP), the Triple Crown is the culmination of the World Championship Tour -- the last chance to score points toward this year's men's and women's world titles, and to lock down one of the coveted spots on next year's Word Cup Tour.
Beyond prizes and ratings, surfers compete here, in the world's mecca of surfing, for prestige and the respect of their peers. Triple Crown Executive Director Randy Rarick explains: "other venues have fast tubes, or occasional big waves, and intense competition, but the Triple Crown has it all. It's the most demanding series of events in surfing."
Hawaiian surfers are especially proud of their ability to surf big waves. It's the local boys' edge in competing with top-ranked surfers, whose venues on the World Championship Tour include a lot of smaller breaks. Myles Padaca showed us that edge in last year's Rip Curl event. When asked about what conditions he's hoping for this year, he smiles and says, "We like it big."
Spectators like it big, too, and the Triple Crown never fails to deliver. For us, the Triple Crown is like having the World Series staged in our backyard – only with free seats.
North Shore locals smile when their mainland friends talk about the change of seasons. We have dramatic season changes here, too. In the Fall, the great north Pacific ocean comes alive like an awakening giant. The booming shore break reverberates up the bluff at Pupukea, and the snorkelers and divers flee Shark's Cove. As the Triple Crown draws near, the competitors start to arrive, from South Africa, Brazil, Australia, drifting into town like gunfighters in a western movie. And the North Shore, so sleepy in the summer, almost crackles with excitement and tension, as though there were static electricity in the air.
Come share the excitement and see the show. Starting on Nov. 12, call 637-6376 or 638-5024 to find out if one of the events is on that day, and our local TV newscasts usually have good forecasts for when the surf will be up – and that's when the contests will be held.
The Hawaiian Pro, held at Haleiwa Alii Beach Park (turn left before Haleiwa Joe's restuarant) will be the Triple Crown's first event. Haleiwa's waves are not as life-threatening as those at Sunset or Pipeline, which means competitors will be trying more high performance, high risk maneuvers. This event is also fun to watch because it includes the Davidoff Cool Water Xpression Session, not part of the Hawaiian Pro scoring but offering $10,000 for the most radical aerial and other maneuvers.
The Rip Curl Pro is second in the Triple Crown series. Held at beautiful Sunset Beach, this event features big, unpredictable waves breaking over an area the size of two football fields.
When a ride goes well at Sunset, the series of turns looks graceful, almost easy, from the beach. Less visible is what happens in a wipeout. First, you hit the water with the combined speed of the wave plus a two-story fall. A split-second later, you're hit with tons of water, like having a swimming pool of water dropped on you from twenty feet up. The water explodes in all directions, and it feels like you've been tackled by five NFL linebackers at once, each trying to tear off an arm or a leg or your head. Then, as you're tumbled and spun deep in the grip of the white water, you have long seconds to think about when you'll get your next breath -- and whether your board, unseen, is perhaps snapping back at you pointy end first that very moment.
The Xbox Gerry Lopez Pipeline Masters, last event in the Triple Crown, pits the world's best surfers against the most famous wave in the world. At Pipeline (just left of Ehukai Beach Park), big ocean swells march in, relatively undisturbed, and then suddenly encounter a very shallow reef very close to shore. This results in a hollow, break (shaped like a pipe) which is very fast, with wipeouts even more ferocious than at Sunset because of the shallow reef. With the action less than 150 yards away, every spot on the beach is like a ringside seat. The waves break with a thunderous roar, the ground vibrates under your feet, and danger hangs in the air.
Last year, an experienced surfer died at Pipeline, though not in a Triple Crown event. Even with lifeguards and fellow surfers trying to help him, he was torn from their grasp in the next set, and his body was never recovered. In last year's Pipeline Masters, Michael Ho dislocated his shoulder. "We've had lots of injuries in Triple Crown events over the years," says Randy Rarick, "but no fatalities yet, fortunately."
Myles Padaca knows all about the dangers of surfing. When he was 16, long before his last leg break, his board hit him at Makaha and broke his leg. Injuries come with the territory in his line of work, and he shrugs it off. "Everyone pays their dues," he says matter-of-factly.
Right now, he has no time to worry about injuries; his thoughts are on the big question: can he pull off a repeat of last year's victory? Although his first place at the 2001 Rip Curl Pro assures him of being in the field at Sunset this year, he will once again have to fight his way into the Hawaiian Pro at Haleiwa and the Pipeline Masters by beating all the talented, up-and-coming surfers in the qualifying rounds.
Then, once he's in the event, he'll be up against the likes of five-time Triple Crown champ Sunny Garcia, twice-champ Kelly Slater, and the Irons brothers, Andy and Bruce, who won last year's Hawaiian Pro and Pipeline Masters.
Myles projects focus, seriousness of purpose, and a level of confidence that only a champ can have. "The field is stronger than ever this year," he smiles, "but there's nothing like winning to make you confident."
We're rootin' for you, Myles.