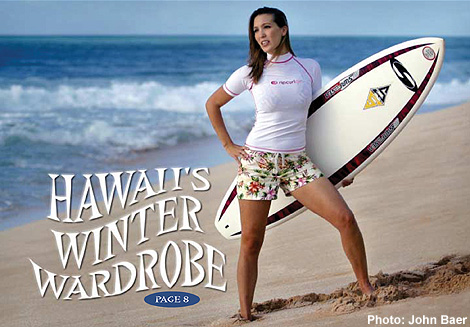 Nissa Andrews models a low-collar, short-sleeve Rip Curl Classic rash guard shirt and reversible "Manihi" board shorts..
A Legendary Hawaiian Performer
By: Will Henry Cantor
Oahu Island News
Like a roaming pack of wolves, giant waves come home each winter to their favorite spot: Oahu's North Shore. They rear their white-capped heads and flex claws made out of razor-sharp coral. This notorious, 7-mile stretch calls out to surfers around the world in an irresistible siren song of glory, danger, challenge—and yes, big money. Drawn to this watery beacon, the world's top male and female surfers test their bravery and skills in the Vans Triple Crown of Surfing, which offers world-champion titles, network TV exposure, and $750,000 in prize money.
This month kicks off what should be an incredible contest in pro surfing. "This will be an intense battle for the world titles, both men's and women's," says Jodi Young, media director for Vans Triple Crown. "Probably the most intense in the past 10 years. We've never had as many surfers in serious competition and the scores as tied." Look for a possible win from six-time world champion and undisputed king of surfing Kelly Slater. Slater took three years off from full-time competition before announcing an end to his hiatus in 2002. This May, he scored a first-place win at the 2003 Billabong Pro Teahupoo, in Tahiti, so he's clearly in top form and will be trying for a seventh World Champion title.
"He's phenomenal. He's just an absolute highlight," says Young. "It will be great to see him back this year. If he wins, it would be an incredible comeback."
The World Qualifying Series-rated Vans Hawaiian Pro kicks things off Nov. 12-23 at Haleiwa's Ali'i beach. The break there is known to be a fast ride that peels off over coral reef. The Hawaiian Pro is the first stop in the annual Vans Triple Crown, and the sea-
son-ending men's World Qualifying Series event of the Association of Surfing Professionals World Tour. This event determines who will advance to the World Championship Tour in 2004. The purse is $125,000, with the first-place winner set to take home $15,000. The defending champ is Ha-waii's Sunny Garcia.
Next, surf fans should head over to Sunset Beach from Nov. 24-Dec. 7 for The Rip Curl Cup, also known as the World Cup of Surfing. This is the big event on the ASP World Championship Tour; only the top 45 ranked pros and three wildcard entrants can compete. The break at Sunset Beach is farther out from shore — a half-mile out in the ocean, so bring binoculars for better viewing. Due to the location of the break, waves can grow to 20 feet thick and up to four stories high. The pot of winnings is $250,000; the first-place winner gets $30,000. Last year, Joel Parkinson, of Australia, won. The past 10 years of Rip Curl Cup have seen a relentless battle between Australia and Hawaii. During that time, Hawaii champions included John Gomes (1993), Sunny Garcia (1994 and 2000), Shane Dorian (1998) and Myles Padaca (2001).
The third and final jewel in the Triple Crown and a finale to the ASP World Tour is the Xbox Gerry Lopez Pipeline Masters. Turning 33 this year, it's the longest-running and most well-known professional surfing competition. The ASP World title and Vans Triple Crown title are both awarded as part of this competition, which takes place Dec. 8-20 at the infamous Banzai Pipeline. Pipeline's giant waves—up to five stories high—break less than 100 feet from shore. At stake: $250,000, which could be considered hazard pay, considering how there's a barely submerged reef lurking under the surfers. First place gets to cash a check for $30,000. Last year's champion was Ha-waii's Andy Irons, who at the time of this writing is the top-ranked surfer on the WCT circuit.
Access to the Triple Crown competitions has been a sticky issue for local surfers, but according to Young, "The trials for both Xbox and Rip Curl offer local surfers an opportunity to compete, and the Vans Hawaiian Pro is a fairly open event." This year, ASP has guaranteed 16 slots in the Pipeline Masters for Hawaii-based, "Pipeline-specialist" surfers.
The world's top pro female surfers have their own three-event lineup in the Vans Triple Crown. The Roxy Pro kicks things off at Haleiwa Nov. 12-23, with the winner taking home $6,000, and a total purse of $30,000. The defending champion is Australia's Neridah Falconer. The Turtle Bay Resort Women's Pro takes place at Turtle Bay Resort and offers $20,000 in total winnings, $3,500 to the winner. Last year, California's Julia Christian won. Lastly, female competitors head to Billabong Pro Maui, which takes place at Honolua Bay Dec. 8-20. The purse is $60,000, with first place bringing home $10,000. Last year, Brazil's Jacqueline Silva took home top honors, her first win on the WCT. These three events determine the women's ASP World Champion, as well the Vans Triple Crown of Surfing champion, and the lineups for the 2004 circuit.
With basically every major title in surfing on the line, you should definitely head up to the North Shore to watch. All events are free and you don't need tickets. Before you head out, though, check wave conditions (available at the Surf News Network; 596-SURF or www.surfnewsnetwork.com). "It's important that people know that while all of these dates are available for the competition, it will actually take place on the best four days of that period," explains Young. "We have those extensive windows so we don't have to run every day. There's always something happening, but we try to get the competition on the good days." A good rule of thumb is to shoot for the middle of an event's holding period.
Even if you're not an aficionado of surfing, it's still worth a trip up. The fact is, you'll be seeing the most dynamic surf anywhere. "It's just incredible to watch such giant waves with people surfing on them," says Young. "You can see the danger element and you know you wouldn't want to be out there yourself and you can admire that. Haleiwa is a very user-friendly event, and with Pipeline, it's like being at an IMAX movie.
The waves are so close, the ground shakes when they hit." Expect parking and traffic to be extremely tied up, as it is every surfing season, so be patient and use the aloha spirit. Bring food and water, because you may want to stay longer than you thought. After all, the giant North Shore surf is one of Oahu's — and Mother Nature's — most amazing spectacles, whether anyone is on the waves or not.