By The Way
Ronald McDonald House Charities (RMHC) in Oakbrook, Ill., has chosen Ronald McDonald House Charities of Hawaii as October's RMHC Chapter of the Month. The award is given to an RMHC chapter based on its "ability to deliver top-quality services to children, meet the needs of the community, and utilize a creative approach to solving problems." RMHC of Hawaii's newest facility is the Ronald McDonald House (RMH) Family Room, a respite and support center inside Kapiolani Medical Center for Women & Children. Staffed entirely by volunteers, the RMH Family Room offers moral support,
privacy, snacks and beverages, the Internet, a game room for the patient's siblings, and more. Its location near the Intensive Care Units makes it a welcome refuge for parents enduring lengthy bedside vigils. Since its 2003 opening, the RMH Family Room has aided hundreds of anxious families. In addition to its RMH Family Room, RMHC of Hawaii operates two Ronald McDonald Houses in Manoa Valley with a total of 18 guest rooms.
• • •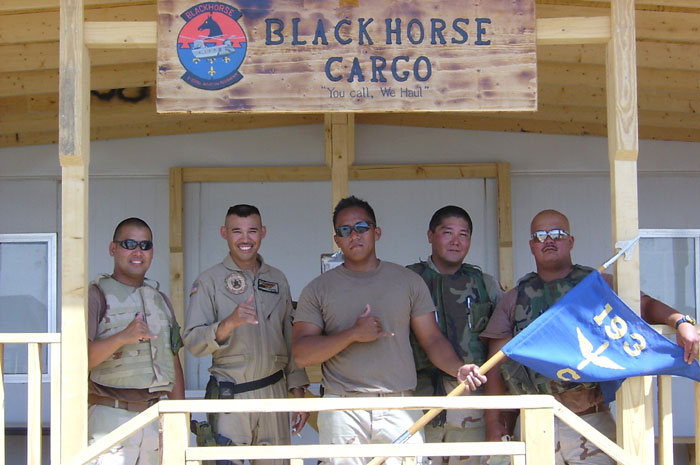 Greetings from Iraq: Members of the U.S. Army's 193rd Aviation C Company, Hawaii National Guard on active duty deployment, send island aloha from the front. Shown left to right are SGT Chad Iwane, SSG Jacob Magarro, SPC Curtis Erese, SPC Edward Kuroda and SPC Melchor Bontog. The unit operates the famed CH-47 "Chinook" assault support and cargo helicopters. Photo courtesy the 193rd Family Readiness Group.
• • •
Entries are being accepted for students in grades three through 12 for the "Star Poets 2005" competition, now in its sixth year, sponsored by Windward Community College and Starbucks Coffee. Students may enter as many poems as they wish on any topic as long as each doesn't exceed 20 lines. Students with multiple entries will judged on the body of their work. Entry forms are available at all Starbucks on Oahu and on the web at www.starbuckshawii.com and www.wwc.hawaii.edu. Deadline for submissions is Jan. 15, 2005. Cash prizes will be awarded to the winning first, second and third place poets, and to their respective schools.
• • •
James Puupai Kauahikaua has been named Scientist-in-Charge of the US Geological Survey's Hawaiian Volcano Observatory (HVO). Kauahikaua is a native of Hawaii and graduated from the Kamehameha Schools. He graduated with a B.A. in geology from Pomona College, and returned home to earn an M.S. degree in geophysics at the University of Hawaii at Manoa. His work there focused on the Hawaii Geothermal Exploration Project, where he first met scientists at the HVO. Kauahikaua started his career as an USGS intern in 1976 in Denver. After a one year, he returned to the University of Hawaii and completed his Ph.D. in 1983 on the electrical structure of Kilauea volcano, with continued support from the USGS. In 1988, he was named the HVO staff geophysicist.
• • •
Aloha Harvest, a non-profit organization that collects donated, leftover perishable food from food donors and distributes the food to Oahu's needy, recently received monetary donations totaling $17,500. Aloha Harvest received $10,000 from the Friends of Hawaii Charities, Inc., a portion of the proceeds raised by the 2004 Sony Open golf tournament. This is the third year in a row that the Friends of Hawaii Charities has selected Aloha Harvest as one of the event's beneficiaries.
• • •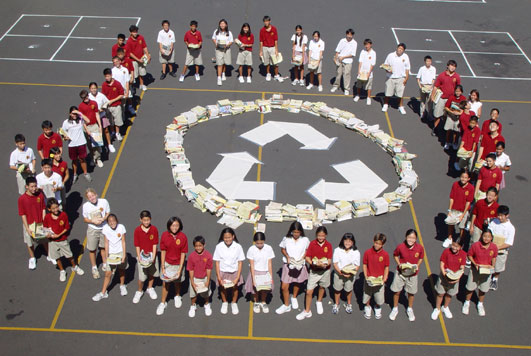 Maryknoll School Eighth graders are getting a jump start in environmentally responsible behavior, recently collecting and donating several hundred retired phone books in conjunction with Verizon Hawaiiıs recycling project. The project is a contest for public and private schools, which is being coordinated by the state Department of Education and the Island Recycling Center on Sand Island, designed to teach young people the importance of caring for the environment. Maryknoll Eighth grade teacher and alumnus Shana Tong, teacher Margot Adair and their students coordinated the collection, which included donations from Maryknoll School classrooms, offices, and family homes, as well as a number of Waikiki hotels and the State Department of Human Services. All phone books were delivered to Island Recycling Center.