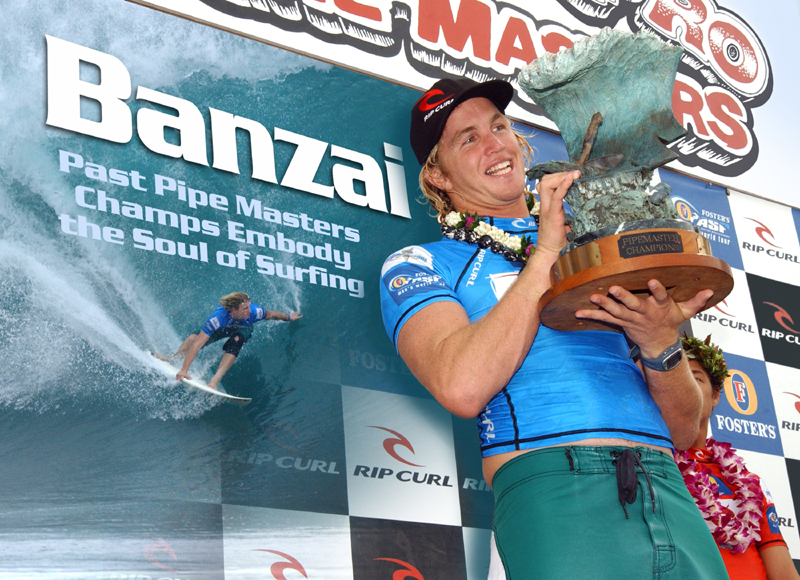 'BIG PIPE'
Aloha, Respect & Wave of Consequence
By W. Knox Richardson
Gunslingers and matadors. Gurus and wannabees. Beachboys and Hui. Surfers all — all seeking the perfect wave. Like the Holy Grail, it is an endless dream that eternally haunts both angels and demons.
Whipped by a cultural compulsion to extend man's domain into the tubular blue depths of Neptune's wrath, surfers from around the world materialize at a place where injury to the flesh is expected and no one earns respect without first conquering this wave of consequence.
It matters not how good you are but only how good you might be, for perfection is fleeting. This is professional surfing at its zenith. Judged by humans, there may be perfect scores but no perfect rides. There is only the next heat and the chance — albeit seemingly unattainable — of catching the perfect wave.
Aloha and welcome to the Rip Curl Pro Pipe Masters at the Banzai Pipeline.
Known as the world's most dangerous wave, "Big Pipe" is seven seconds of cyclonic terror. At least six surfers have lost their lives here. Most of all it is a theatrical force of nature, a turbulent stage for the most coveted title in all surfdom — the final jewel in the Vans Triple Crown of Surfing. Celebrating its 35th anniversary in 2005, the Pipe Masters is the world's longest-running pro surfing event and will be played out on Oahu's North Shore, Dec. 8 to 20.
During the annual winter pilgrimage to Oahu, the Banzai Pipeline is Mecca to both Association of Surfing Professionals (ASP) members and amateur surfers alike. Ocean swells from storms off the Alaskan coast march over the Bering Sea and down the eastern Pacific to Hawaii. Coral reefs amplify the wave energy (much like tsunamis) as they close in on the North Shore. The best waves come from west swells while northerly waves bring chaos and tragedy.
Hawaiian surf legend Gerry Lopez first opened up the break — then thought to be too dangerous to surf — in the record winter of 1969. Once he set the standard for "shooting the tube" not much else mattered in surfing. The rest would soon be history.
The pro riders that come here live up to the competition's name. The victors are truly masters of the Pipe, reaching the pinnacle of their profession and, like the high priests of ancient Egypt, are endowed with the soul of their craft. Legendary names like Gerry Lopez, Derek and Michael Ho, Tom Carroll, Mark Richards, Dane Kealoha, Andy and Bruce Irons and Kelly Slater are all past Pipe Masters champions.
The Pipeline has become the ultimate measure of a surfer's core — his heart, his mettle, his character and his soul. Unlike any other sport — or for that matter any human endeavor requiring skills, determination, expertise and fortitude — surfing and surfers demand one thing and one thing only.
Respect.
In a age where poker players share purses in the millions and teenage golfers get as much in endorsements before their first pro tournaments, hundreds of surfers descend on the Pipeline — Ground Zero — risking life and limb for first-place prize money of less than $40,000. From this place of honor, this hallowed arena of death or glory, comes the ultimate paycheck — the respect of their peers.
What does respect mean to those who not only survive but also defeat the competition, earning their place in the Pipeline record books?
For Jamie O'Brien, also known as Jamie O, the 22-year-old reigning 2004 Pipe Masters Champion, respect is central to making professional surfing his life's mission.
"In Hawaii, respect is also respect for aloha, showing respect for land and the ocean. In the water, it means not dropping in on another's wave, showing respect for others means paying your dues before you take on this wave of consequence."
O'Brien should know, literally having grown up at the Pipeline, his oceanfront house directly fronting the famous wave. O'Brien might be compared with a young Tiger Woods. At age six, with two years already in the water, Jamie O told his dad surfing was what he wanted to do with his life, and after only four appearances in the Pipe Masters, he earned his due last year.
Thirty years earlier, Jeff Crawford, a little known surfer from the east coast of United States dropped in on the Pipe Masters and earned the respect of locals and surfing celebrities alike.
Crawford, now 53, lives a few doors down the beach from the Pipe near Rocky Point, a favorite surf spot for him still.
Crawford said, "You don't get respect by not giving respect." He added, "But when I first got here, I was shown much respect and aloha."
The Banzai Pipeline is not just for professionals. It is often the most crowded surf spot on Oahu, and perhaps the world, during the Big Pipe months. Surfers of all nationalities and experience appear at the Pipe to try their luck like high rollers drawn to the no-limit crap tables of Las Vegas.
Respect.
This is where the Pipeline's informal pecking order surfaces — a caste system really — and if not played out correctly could cost a surfer a lot more than just a plane ticket home.
Should someone with just a couple years of experience surf the Pipe?
"No way," O'Brien flatly stated, surprised by naivety of the question. But it isn't just inexperience with waves, it is also the lack of respect shown by such neophytes.
"They're all amped up and need to mellow out a bit and wait their turn," he warned.
"You could get in bad with Pipeline Posse, the Wolfpack, or even the Hui. You don't want that." His eyes expressed an unspoken admonition — if you get what I mean, he seemed to say.
The Pipeline Posse is a 10-year-old, well-intentioned group of local surfers who maintain the peace on the Pipe using the spirit of aloha and patience as tools to keep tempers from flaring. The Wolfpack are some of the same regulars at the Pipe who sometimes help "enforce the rules of engagement," one local observer said. The Hui, which date back to the mid-1970s, is a high caste of well-established surf locals who in the past have escalated matters — on both land and sea — when an "outsider" didn't show respect or attempted to drop in on the wrong wave.
"Today there is more aloha in the water than in years before," said Crawford, observing a well-ordered group of surfers waiting uncomplainingly for their turn at the Pipe.
"Surfing has suffered from the original image given it by gunslingers, greasers and hodaddies in the early 60s," Crawford noted. "Like outlaw motorcycle gangs, surfers sometimes disrespected themselves off the field more often than in the water. But it is getting better."
Respect.
Along with his year-old Labrador Retriever back on the beach, Jamie O smiles easily, a soft-spoken and seemingly content person; he is where he's meant to be. In conversation, his active eyes dart about between people and the sea. Nothing escapes his attention. Passersby toss greetings and aloha his way as a matter of routine. He is respected — of that there is no doubt. The money is nice, he said, but clearly his ambitions lie elsewhere.
"My win for me means my dream came true. I can reach my goals; I already did it."
There are obstacles, though, not withstanding the man-made rules of right-of-wave. In surfing the basic laws of physics also apply — no two objects can occupy the same space at the same time.
O'Brien hadn't surfed this day. He pulled his shirt up over his lower back to reveal a skin-colored patch hiding five fresh staple stitches, the result of a run-in with a water-born photographer and his camera the day before.
Several times in a single hour O'Brien was obliged to display this battle wound so as to explain his conspicuous absence from a reasonably surfable west swell.
Surfing like any extreme sport is inherently dangerous. The danger is often manageable yet all too often unpredictable. In the Pipe Masters, dozens of participants have fallen prey to razor-sharp coral reefs that wait in silence a few feet beneath the tubular waves.
Respect.
Injuries here are the norm. Surfers display their respective cuts, abrasions and broken bones like medals of valor. Serious injury at the Pipeline Masters is expected, so much so that only the most heinous wounds draw much attention from crowds, lifeguards or medics.
"There is a 100 percent chance of being injured at some point if you surf the Pipe," said Roman "Tarawa" Jones, a Californian surfer visiting the North Shore for the third time since 1999. Turning his left leg outward, he revealed a zipper-looking scar left two years earlier by a deep gash along his calf.
"I got this beauty right there," pointing toward the second of the three reefs at Pipeline some 100 yards from the beach.
During or before the Pipe Masters, injuries have taken their toll on top professionals as well as visitors. A few years ago, local iconic hero and multi-past Masters winner Derek Ho hit a reef and suffered a head injury; he nearly drowned. Top contender Taj Burrow smashed up against some coral and was out of the contest. That same year, Floridian Cory Lopez bashed his nose in against a flying board and unhappily left the field.
Injuries and potential death can give one pause to ponder the philosophical side of the sport. Anyone who has risked all for the sake of a thrill knows what it means to seek oneself and inner peace through the process.
Past Pipe Masters champion Gerry Lopez, the guru-godfather of the Banzai Pipeline, once said in an interview the "soul of surfing is internal, just like the soul in each of us."
"The older we get the more we layer over our souls with beliefs … that make it hard for you to access it, but it's there."
Decades ago, surfers would hunt down unknown breaks seeking the soul of the wave for a communion with nature. It was called "soul surfing."
Soul surfing at the Pipe Masters may mean a combination of respect, aloha, catching a wave of consequence, and perhaps a pinch of perfection.
"When I won the Masters it was in poor conditions. But I had the best wave," Jeff Crawford said. "In any event, the rider who catches the best wave usually wins."
Was that perfection?
Jodi Young, the hard-working veteran media director for the Vans Triple Crown competition, herself a former ASP surfer, said, "I think perfection in surfing exists in just the same way that the perfect wave exists: for a very brief moment in time, and that makes for half of the addiction. When you witness a perfect score in surfing, as we have done on very special days at Pipeline, it's when the elements of nature and the timing and brilliant skill of a great surfer coincide in one brief moment."
Yet the march to seek the perfect wave goes on and on. At the Pipeline perfection may last for just a moment, like the split-second when a golfer makes contact with the ball that results in a hole in one. It is only this moment surfers seek, not the resulting score.
"Once a surfer attains that flash of perfection, he has ignited a drive to hunt it down again, and I do believe that is why surfing overtakes your life and endures for your lifetime, because it really is an addiction once you've tasted the thrill," Young reflected.
"The beauty of it is that the thrill is relative to your own skill level. You can find your own perfection no matter what level you're at."
Respect.