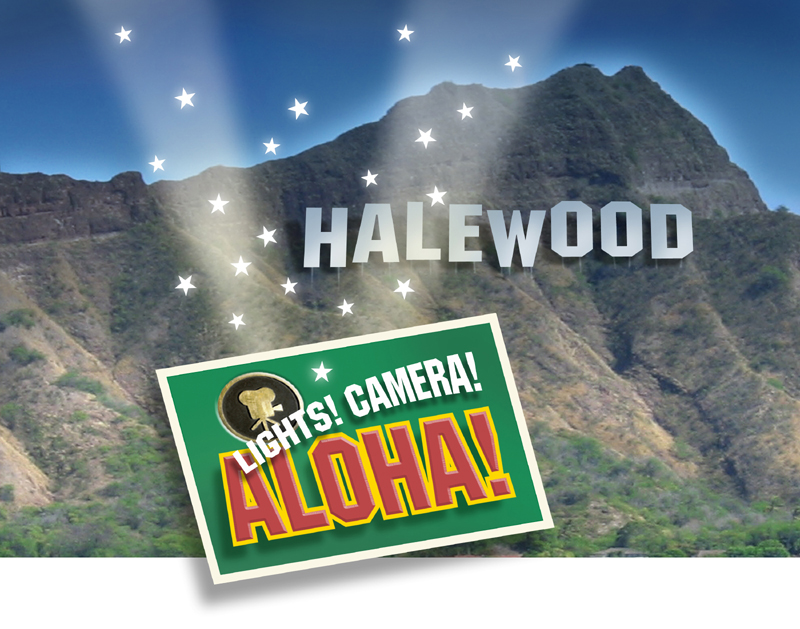 Oahu: Hollywood's Home Away From HomE
By W. KNOX RICHARDSON
"Quiet, please. This is a take. And, action!"
FADE IN:
EXT. OAHU BEACH — SUNRISE
VOICE OVER: Question. What do Equatorial Africa, the Amazon, Costa Rica, Panama, the Philippines, Micronesia, the South Seas, Jamaica, Tahiti, Okinawa, Taipan, Viet Nam and the Mediterranean all have in common? Answer: Oahu, Hawaii.
For more than a century — with its pristine beaches, rugged mountains and steamy jungles — Oahu has portrayed the most exotic, inaccessible and dangerous places on earth, representing myriad diverse locales for major movie productions — all without ever leaving the city limits of Honolulu. Hurray for Halewood — the movie industry's home away from home!
When in 1898 the first motion pictures of Oahu were taken for a Thomas Edison travelogue, Hollywood hadn't been invented yet. Even the earliest of filmmakers recognized Oahu offered some things unavailable anywhere on the continent — urban city scapes, tropical forests, verdant palisades and lush valleys, crystalline beaches and even sprawling military bases — all within a few miles of each other.
Most recently the multi-Emmy-winning ABC-TV hit series "LOST" is a good example of Oahu portraying other geographic locales. In "LOST," survivors of a plane crash find themselves stranded on desert isle some three thousand miles away from the shooting location on windward Oahu.
In the first season, the airplane wreck scenes were filmed at Mokuleia Beach near Oahu's northwest tip at Kaena Point. The jungle scenes and lush pastures were shot at the foot of jagged cliffs in Kaaawa Valley just over 30 miles away on the windward side of Oahu. Many other productions have been filmed there including the memorable hiding-behind-the-log chase scene in Steven Spielberg's "Jurassic Park" (1993) and most of the island fighting scenes in "Windtalkers" (2003).
The Kaaawa Valley is privately owned entirely by Kualoa Ranch, or just "the ranch" as movie folks call it. It is arguably the most filmed backcountry on Oahu doubling as Taipan in "Windtalkers" and as Costa Rica in "Jurassic Park." It also served as African locations in "Tears of the Sun" (2003) starring Bruce Willis, and as Panama, Jamaica and Tahiti in "Godzilla" (2001).
Other films shot on location in Oahu but depicting far-off parts of the world include "Don Juan Demarco," the Mediterranean; "Mighty Joe Young," Africa; "Joe and the Volcano," Micronesia" "In Harm's Way," the southern Pacific; "Flight of the Intruder," the Philippines and Viet Nam; "The Rundown," the Amazon; and "George of the Jungle," fantasy Africa.
Not all films shot on Oahu depict far-off exotic lands or inhospitable jungles. Most recently, "50 First Dates" (2003), already seen as romantic comedy classic, was filmed on Oahu's windward side in locations from ranging from Waimanalo and Sea Life Park up the coast to the Oaloa fishpond and Kaaawa Valley at Kualoa Ranch.
Halona Cove — now also called Eternity Cove on the far eastern part of Oahu between Hanauma Bay and Makupuu Point — is recognized worldwide as the rocky beach where Burt Lancaster and Deborah Kerr shared one of greatest screen embraces ever in the 1958 wartime romance saga, "From Here to Eternity."
Known around the world for its big winter waves, Oahu's famed North Shore is no stranger to Halewood. Surf films have been made there since 1964 with "Ride the Wild Surf." More recent features include "The Big Bounce" (2002), "Blue Crush" (2002), and the big wave shots in "Point Break" (1991).
Besides the obvious attraction of Oahu with its great weather and fantastic scenery, movie productions come to the island for other good reasons; some are economic such as the state's tax incentives. (But that doesn't explain why the producers of "LOST" choose Oahu when the production budget for the two-hour pilot was $12 million, far greater than the cost of most television shows. This led to ABC/Disney's firing of ABC Entertainment honcho Lloyd Braun, even though the show went on to became the network's biggest hit in years.)
More than 70 features and 700 hours of television productions have been filmed on Oahu, including dozens in metropolitan Honolulu or in hotels and on the beach in Waikiki. Most notable is "Hawaii Five-O," the longest running TV crime drama ever (1968-1980).
Second only to the lush, tropical locations of Oahu is the Hawaii Film Studio built in the mid-1970s around the old "Hawaii-Five-O" shooting stage, the only state-owned complete film production facility in the United States. Incorporating state-of-the-art support facilities and production offices, the studio lies in the shadow of Diamond Head and is operated by the Hawaii Film Office, a branch of the state's Dept. of Business, Economic Development Tourism, more commonly known as DBEDT.
With a modern sound stage and a 94,000-gallon water tank, the studio today is home to the local production of "LOST." "Like Hawaii Five-O" with its interior stage scenes shot in the Hawaii Film Studio complex, "LOST" is completely filmed locally. Last year the sound stage where the cave scenes were filmed was an old warehouse in near Sand Island. Now vacant again, that Mapunapuna studio building could be use for other productions if producers can be enticed to bring their projects to the islands.
Two government agencies - one state and one county — have missions to persuade and support filming on Oahu. The Hawaii Film Office works hand in hand with the Honolulu Film Office to bring productions to Hawaii and Oahu and provide them a variety of support programs.
The state office, run by Hawaii Film Commissioner Donne Dawson, provides overall state film production incentives, such as managing the state Act 221 income tax credit program that can provide rebates of nearly 15 percent on certain expenses to productions that film locally, use a Hawaiian name in the title or employ Hawaii residents. It also secures production permits for state-owned or controlled lands. It is estimated that film companies contributed more than $161 million in 2004 to the state's economy, making it one of the biggest industries on the islands.
Honolulu Film Commissioner Walea L. Constantinau runs the Honolulu Film Office and offers even more hands-on programs such as public location scouting and production permitting for city & country facilities. She also works with local property owners to help secure privately owned locations and well as hotel housing and local crew support.
Both offices attend mainland film festivals and conferences to make contacts and pitch the islands as primary locations for safe and economical filming against new comers such as Mexico, New Zealand and Australia. Hawaii competes with governments that aggressively market and support their local film industries. Some countries, such as Canada, have government-owned production companies, but then those governments have different views of free market economies and tax rates often triple of what is found in the United States.
Chris Lee, the recently resigned founder of University of Hawaii's Academy for Creative Media program and former Columbia/Tri-Star studio head, for example, took his Warner Bros. production of "Superman Returns" to Australia as that country offered a better overall package, including special effects and digital postproduction facilities. It is in these areas where Oahu continues to improve its local offerings but only through private investment.
But let not it be said it is just the natural beauty of Hawaii that attracted the early and current filmmakers. It was also an instant cadre of new actors who could double as many different nationalities, just as the location sites do.
The first to make it big was the late great Duke Kahanamoku, father of modern surfing, Olympic medallist and famous Waikiki beachboy.
Duke was Hawaii's first movie star, appearing a dozen movies over his lifetime — initially in the 1925 silent comedy short, "No Father to Guide Him," and finally as a native chief in the 1955 classic, "Mr. Roberts," with Henry Fonda and Jack Lemmon.
One time Duke portrayed a swarthy Barbary Coast pirate captain in the 1926 feature "Old Ironsides." He was later cast as a Persian in the 1928 film "Woman Wise" and as a South Seas islander in John Wayne's 1948 captivating sea tale, "Wake of the Red Witch."
More recently Honolulu-born and raised Tia Carrere has starred in several major films, including "Wayne's World" I and II, "True Lies," "Relic Hunter," and as the voice of Nani in the Disney film "Lilo & Stitch." Other notable Oahu-born actors include Ernest Abuba, Daryl Bonilla, Bill Calvert, Matt Corby, Scott Coffey, John Fujioka, Hilo Hattie, Danny Kamekona, Dayton Kane, Lani Kai, Nicole Kidman (born here, moved later), Clyde Kusatsu, Jeff Lam, Jason Scott Lee (born in L.A. of Hawaiian and Chinese ancestry) Jason Momoa, superstar Bette Midler, Punahou-graduate Kelly Preston, James Shigeta and, of course, Sam Fong and Zulu from "Hawaii Five-O". Many local personalities have appeared in feature films playing themselves including U.S. Sen. Dan Inouye, Do Ho, and Danny Kaleikini, Of course, the late Jack Lord and Tom Selleck, though not Hawaiian by birth, are kama'aina by anyone's standards. Even mainland transplant Oahu Island News columnist and entrepreneur Wally "Famous" Amos of Lanikai has appeared on the silver screen.
Oahu has outgrown many of its past problems, including labor unrest and criminal acts committed between rival support companies. Filmmaking is a clean, non-polluting industry that adds value to tourism, bringing hundreds of millions of dollars into the local economy and spreads the spirit of aloha around the globe.
Every so often everyone can enjoy the bounty for free as the periodic "Sunset on the Beach" celebrations host premiers of locally produced films and TV shows shown on a 30-feet screen on the sands of Waikiki.
But this writer knows the real reason why so many productions are made on Oahu. It's not just tax breaks, the friendly people, easy access to exotic locations or even the great weather and natural beauty. It's because there are no snakes here. Think about it.
FADE OUT. "And, that's a wrap."