Pick up your copy of the Oahu Island News at any one of our 125 locations for more contest information and a complete listing of all the prizes.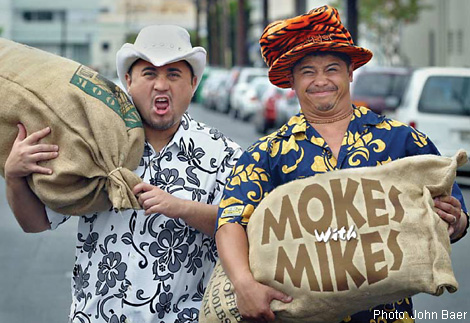 Island 98.5 morning DJ's Lani & Augie.
Lanai & Augie: They Keep Oahu Laughing
By:Kathryn Drury
Oahu Island News
As in any other American city, Oahu's radio dial has a little something for everyone: classic rock, hip-hop, R&B and National Public Radio. But you'll also find Japanese, Filipino, evangelical Christian and Korean programming – languages and styles that represent the incredible diversity crammed into the air over one little rock. In this mix – a bowl of saimin, if you will – filled with a tangle of different cultures and a broth of geographic isolation, Grant "Lanai" Tabura and Augusto "Augie T" Tulba provide a healthy dose of seasoning. The duo are best known to Hawaii listeners for their morning show, "Lanai & Augie," a blend of local comedy, skits and interviews, as well as a playlist offering Hawaiian and reggae music.
Unlike some bland, corporate DJ who is taped in Dallas and then played in Waco, Houston and San Antonio as local talent, Lanai and Augie are the real thing. They aren't afraid to use pidgin, to joke about racial differences or growing up poor.
"The exposure these guys have is unreal. Even if you don't listen to the radio station, you know who they are," says Chris "Daddy" Rhodes, promotion and events coordinator of KDNN-FM Island 98.5, which has broadcast the show for four years. "It's their personalities and the way that they are able to project that to the public."
Or as Lanai explains it, "People wake up to us [the show is on from 5 a.m. to 10 a.m.] so they feel we're more like friends than celebrities; we're accessible. People see us at the mall and come up and say 'hi.' We're not models."
"Yeah, models for short and fat," finishes Augie, a self-proclaimed "moke wit da joke." "We're like anyone else. We have bills, child support, kids. Lots of child support."
Augie has two sons: Tahj, 12, and Bo, 17, who was born when Augie was a teenager himself. Lanai has two little girls: Kiani, 6, and Taylee, 6 months.
"My whole goal in life is to keep them away from poles," he jokes.
Lanai got his nickname from the island he grew up on, a place so small that his high school yearbook was a pamphlet.
"It was paperback!," he laughs. "I came to Oahu to go to HPU on a volleyball scholarship – they were trying to start up an NCAA team – and I had culture shock when I got here. I didn't know what an escalator was."
Meanwhile, Augie was growing up in the housing projects of Kalihi Valley, later moving to Waianae. One of six boys, he had no choice but to learn to protect himself, a skill he later channeled into two talents: boxing and comedy. He can make the unusual claim of having won both the Golden Gloves and the Na Hoku Hanohano award for best comedy album.
Augie wanted to do stand-up from small-kid time, but Lanai never meant to do comedy, envisioning himself as more of an MC. Ten years ago, Lanai was master of ceremonies at a prom fashion show and a local comedian asked if Augie could come up and do five minutes of comedy. They disagree on how good that performance was, but they've been friends ever since.
Augie is the cut-up of the two while Lanai, wearing a T-shirt that reads "HUSTLER," is the deal maker, constantly on a cell phone.
"Nothing's free," he explains with a shrug. "We have to market ourselves however we can. Call me a sellout all you like, but I have to pay for the Mercedes somehow."
Augie agrees, saying, "People will say we're doing too many things. But there's no such thing as oversaturated. It means we're working hard. If I'm on every single channel, fine."
There may not be a Lanai & Augie Channel yet, but the two seem to be everywhere. That's Augie's voice introducing music at the movie pre-show. That's Lanai and Augie doing endorsements for Hawaiian Tel Federal Credit Union, Aston Hotels, Lava Lining, Lion Coffee and Hawaiian Airlines. The family-friendly game show "Jan Ken Po" will resume in November on Hawaii's Fox affiliate, KHON-2. A Lanai & Augie Christmas special for television is also in the works. They have done DVDs and their book, "Jokes for Dummies," has sold 12,000 copies.
Then there's the stand-up show, "Comedy Shack," held every Friday night at Dave & Buster's at Ward Centre. Damon Wayans, The Rock and Don Ho have all stopped by to check it out. Lanai opens and Augie performs a long session, covering everything from gay personal shoppers to growing up poor. (One joke: Auntie gives Augie an empty Mrs. Butterworth's bottle, calling it "Kitchen Barbie.") He pours himself into the set, talking himself hoarse and keeping the audience howling. It's not polite laughter; it's hoots of recognition and celebration, of "this is who we are."
Lanai and Augie have taken some heat for their racial humor, but it's so equal opportunity, so inclusive, that it's hard to find much fault in it. If we can't laugh at ourselves and our neighbors, the two seem to be saying, what is the point?
They've also attracted their share of controversy for the All-Stars, a rag-tag group of morning-show participants with names like Coach David and Pete the Entertainer. Some have developmental disabilities, others are recovering drug addicts or formerly homeless.
"We've gotten complaints," acknowledges Augie. "We've gotten complaints from every group in Hawaii. But we don't care. People don't know what it's about. They're our boys, our friends. They tease us back. It's equal. Pete, for example: People talk the talk but do they take him into their house and feed him dinner?"
He motions over to Pete the Entertainer, who is wheelchair-bound. "We need to get Pete a leg," says Augie, only half-joking. For his part, Pete says, "I love them. They're like brothers to me, family."
"I think these guys are the best; they literally saved my life," says a tall man who goes by the name Maxx Effect. "I've been working with them for a year and a half. I do commercials and intros for them. It's a whole new thing for me. Before this, I was a drug addict. They helped me with their 'Get Your Life Together' program. They gave me work, helped me get treatment."
"We don't take applications," explains Augie. "It's on a special case-by-case basis."
"It's guys who just got off the street or out of prison," adds Lanai. "Our producer, Harold, needed a job coming out of prison. Superstar Willy was brain damaged. He's since become rehabilitated, gotten married, had a kid and is now at training camp for the military. The All-Stars don't have to be here, yet they're here at 5 a.m. A lot of people think we're teasing them but we're not. We're treating them equally. The common denominator is that they want to be a star. We tell them they can but that they have to work."
Malisa Uchida, the third voice on the morning show, serves as a kind of straight man foil for the zaniness of Augie and dry wit of Lanai. She has been with the show about a year and admits that incorporating the All-Stars in the format requires a little patience. "You never know what you're going to end up with. But it makes the All-Stars really happy. It's a family here. I love it. I have the best job in the world."
Certainly, the methods of "Get Your Life Together" are a bit unorthodox. Maxx's monthly drug test results, for example, are read live on the air. Insensitive? Maxx says, "No, it's incentive. People complain but they aren't here after the show. These guys take us to dinner, to the beach. I moved from a shelter to a garage to my own place because of them. They make sure we have clothes."
He tells the story of how one morning Lanai and Augie spotted him walking on the street in Chinatown and had him take a drug test later that same day.
"It's all about accountability," asserts Augie. "We're forgiving but if they keep on messing up, they're out. My brother was on ice. His life was ruined."
But for the All-Stars, it's not all take, take, take. "You gotta give back," says Maxx, who is helping with a charity event as part of his rehab process. Lanai asks, "Ever see that movie, 'Pay it Forward'? That's exactly what it's about. We were given chances, so we like to give chances back."
With so much success in Hawaii, are they lusting to hit it big on the mainland? They do comedy tours all over, especially on neighboring islands, Las Vegas and the West Coast, yet they remain close to their roots. "When I do stand-up in the Midwest, I'm the closest thing to Hawaii these people have ever seen."
The audience still gets the humor, Augie says. "If you have good mana, people can still connect to that. We're successful no matter where you are from or what race you are, because we're everyday people."