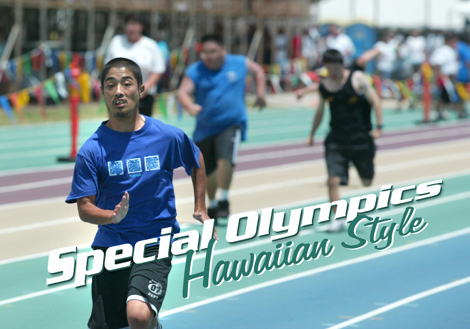 By: Mary Young
Oahu Island News
"Hey, weren't you the guy on TV?" Myran Tateyama of Pearl City hears that question a lot, though it has been months since he appeared on a local network to promote Special Olympics Hawaii. Tateyama, who made the commercial along with the organization's president and CEO, Nancy Bottelo, may be Hawaii's most visible Special Olympics athlete. But there are 49 other athletes statewide who give public presentations and media interviews through the Special Olympics Athlete Leadership Programs.
Global messengers, as these men and women are called, are moving beyond the sports competition that is the heart of Special Olympics. They are developing skills and self-confidence while working to advance the primary goal of Special Olympics: "To help bring all persons with intellectual disabilities into the larger society under conditions whereby they are accepted, respected and given a chance to become productive citizens."
"We train them to go out in public to speak about Special Olympics and tell their life stories," said Melissa Blake, director of special events and corporate relations for Special Olympics Hawaii. "And we try to give them the opportunity to have a voice within the organization."
Tateyama frequently speaks at meetings and benefit events such as the Jingle Bell Run. In 2001, he has addressed the crowd at Special Olympics opening ceremonies. Last year he co-emceed the annual fundraiser, A Very Special Vegas, sharing the stage with entertainer Tiny Tadani.
This spring, Tateyama was named to the Special Olympics Hawaii board of directors. His role on the board is twofold, said Nip Ho, vice president of area services. In addition to the fund raising activities required of all board members, he represents the state's 1,500 athletes.
"When the board of directors wants information about how they can affect athletes, what do they think athletes feel about the decisions they are making or if they want specific input from more athletes, Myran is the person that is asked to go out and find that information out for them," said Ho. "He comes back to the board members and reports on what he found out." Tateyama has also proven to be an effective fundraiser, she said. "He is truly a very active member of the board of directors and that's truly because of who Myran is and his family support system," she said. "He takes his role very, very seriously."
Athlete representation on the board – a requirement for all certified programs – reflects the growing influence of athletes within the Special Olympics movement. For example, athletes made their voices heard recently when they called upon Special Olympics to reject "mental retardation" in favor of "intellectual disabilities" – a term the athletes felt projected a more positive image.
In addition to global messengers and board representation, Athlete Leadership Programs include training for experienced athletes to certify as assistant coaches and as officials, volunteering opportunities, and Athlete Input Council that makes recommendations to staff or the board of directors.
Founded by Eunice Kennedy Shriver in 1968, Special Olympics grew out of Shriver's work for the intellectually disabled as director of the Joseph P. Kennedy Jr. Foundation. The foundation, established in 1946, has two major objectives: to seek the prevention of mental retardation by identifying its causes, and to improve the means by which society deals with citizens who have mental retardation. In 1963, Shriver started a summer day camp for children and adults with intellectual disabilities at her home in Maryland to explore their capabilities in a variety of sports and physical activities. From that camp came the concept of Special Olympics.
Special Olympics athletes must have an intellectual disability and be at least six years old. There is no upper age limit, and it costs nothing to participate. "Intellectual disabilities" include cognitive delays or significant learning or vocational problems due to cognitive delay.
Tateyama's disabilities resulted from a small stroke that he suffered at the age of five, according to his father. The stroke caused some brain damage and left him with a seizure disorder and partial paralysis. "Because he was young, he was able to recuperate and get most of his mobility back," said Ray Tateyama. "But it caused him to have a left side disability."
Visiting with Myran Tateyama, a solidly built 28-year-old with a spiked haircut, it is clear that his passion is sports and competition. At the State Summer Games this year, he competed in shot put, 100-yard dash, and standing long jump. His favorite sports are bowling and bocce.
And he is proficient enough at bowling – his score averages 140 and he has bowled 200 on occasion – that he bowls with a regular league on Monday nights.
"It's not a fantastic average, but he maintains it," said Ray. "He cannot slide on his left foot because of his disability – which makes it very difficult when you're right handed to bowl and slide on your right foot, because most people slide on their left foot."
Since 1996, when he received his special education certificate from Pearl City High School, Tateyama has practiced weekly with the Terminators, a delegation of athletes and family members known as a sports club.
Sports clubs were developed for athletes who come out of high school and want to continue training with a team, explained Nip Ho, vice president of area services. "Sports clubs are usually programs that are run by family members," said Ho. "And Terminators is probably one of the strongest family-run programs that we have in the state of Hawaii. Probably 99 percent of the coaching staff is family."
Tateyama's teammates include high school classmates Jason Baysa of Pearl City and Nicole Kelley of Ewa Beach, and their families. Baysa and Kelley are also athletes and global messengers, and Baysa has teamed up with Tateyama to do multimedia presentations.
The sports club becomes like an ohana, said Ho. "They go bowling together, they have potlucks together, [and] they have Christmas parties together."
Tateyama also gets strong support from his own ohana. His mother, Naomi, helps monitor his anti-seizure medication and drives him to his part-time job at Goodwill Industries. Mother and son both volunteer at the Special Olympics Hawaii office from time to time.
For Myran, a quiet man who is speaks hesitantly, the speeches are a challenge. His dad coaches him before speaking engagements, and Myran says, "I practice a lot." He uses a multimedia presentation that the two of them wrote together. They received the training from Special Olympics.
"We learned everything from taking pictures, from doing actual content and editing and how to put it on," said Ray Tateyama. "Myran and I together, we did it. We were teaching each other. . . it was really something to look forward to."
Ray, a merchandiser for ABC Stores, gives his wife most of the credit for their son's success. "She had been employed, but [after Myran's stroke] she just decided that her life was meant to watch Myran and to show support for the family," he said. "We've decided not to live like wealthy people do. We chose the life that we would rather all be comfortable, but not suffering, so she's able to spend her time with him. So she has dedicated her life to trying to raise him properly and everything."
"Myran's got a phenomenal family," said Nip Ho. "Even with all the skills he has, it's very difficult for special needs individuals to reach out into the community like that without a support system."
Myran Tateyama summed up his Special Olympics experience with characteristic brevity. Interviewed after he threw the shot put at the Summer Games, he smiled and said, "I like doing this kind of stuff. It's fun."
For more information about Special Olympics Hawaii, go to www.specialolympicshawaii.org or call 943-8808.