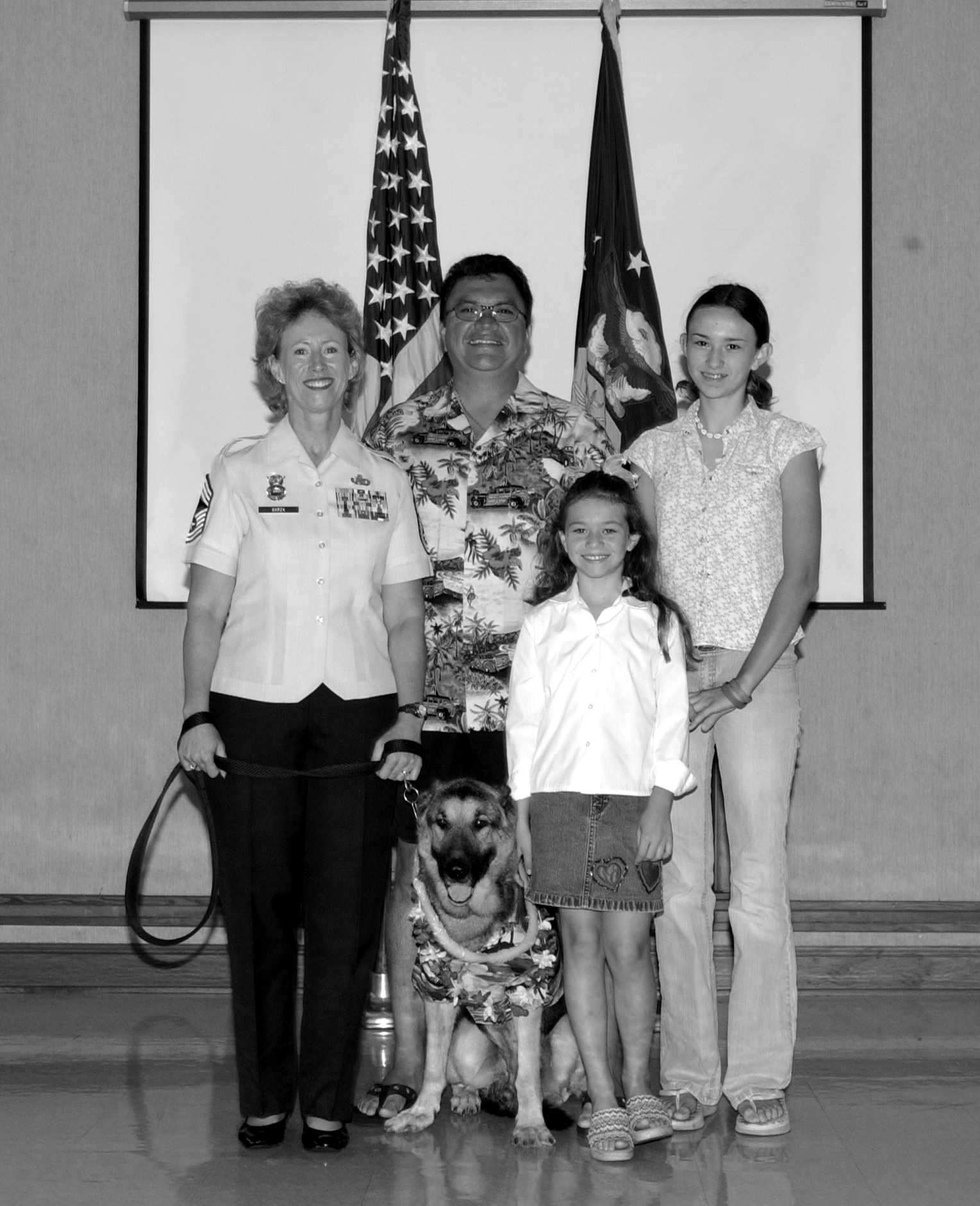 Military Working Dog Nero was recently retired from the U.S. Air Force in a formal ceremony on Hickam Air Force Base. Nero, a German shepherd, was born in 1994, began his military service in 1995 at Lackland AFB, and arrived on Hickam in 1996. Over his nine years of duty, Nero helped suppress the flow of illegal drugs accumulating nearly 40 actual finds. The family of Hickam-based Chief Master Sgt. Debra Garza, shown here with Nero (sitting in front) has adopted him. Nero will spend the rest of his years on family entertainment and casual walks duty.
• • •
The federal Department of Health & Human Services has named Dayana Rocha of Pearl City, a disabilities specialist for the Early Head Star/Head Start program at Parents And Children Together (PACT), as a National Head Start Fellow. Rocha is the first Hawaii resident to be so honored and begins her fellowship in Washington, D.C., on Oct. 1.
• • •
Anthony "The Crush" Torres, who trains in Kailua, is one of 18 elite mixed martial arts athletes selected from thousands of applicants to appear in "The Ultimate Fighter" Spike TV reality series. Torres, 27, is a federal corrections officer on Oahu and a member of the prison SWAT Team. He was a state wrestling champion at Roosevelt High School.
Fund for the Pacific Century is accepting applications statewide for its 2005/6 Pacific Century Fellows Program. Established in 1996 by then councilman Mufi Hannemann, the program is modeled after the White House Fellows Program and is designed to recognize and encourage Hawaii's future leaders. Twenty-five promising individuals in their mid-20's to early 40's will be selected based on their ability to set and achieve goals, leadership qua-lities, and volunteer and civic activities. Call program coordinator Charlyn Dote at (808) 235-3733 for application forms or go to the program's website at www.pacificcenturyfellows.com.
• • •
The Beaumont Foundation of America recently announced Blanche Pope Elementary School in Waimanalo will receive state-of-the-art wireless technology equipment valued at approximately $65,000.
• • •
Bank of Hawaii stepped out for the 12th Annual Oahu Heart Walk withits team of more than 1,300 walkers to benefit the American Heart Association. Donations from BOH employees helped AHA raise more than $315,000 at the Heart Walk, up from last year's $190,000.
• • •
Hahaione, Koko Head and Kamiloiki Elementary Schools received more than $5,500 worth of donations in the form of digital cameras and new equipment from the Honolulu Board of REALTORS®' East Oahu Regional Group.