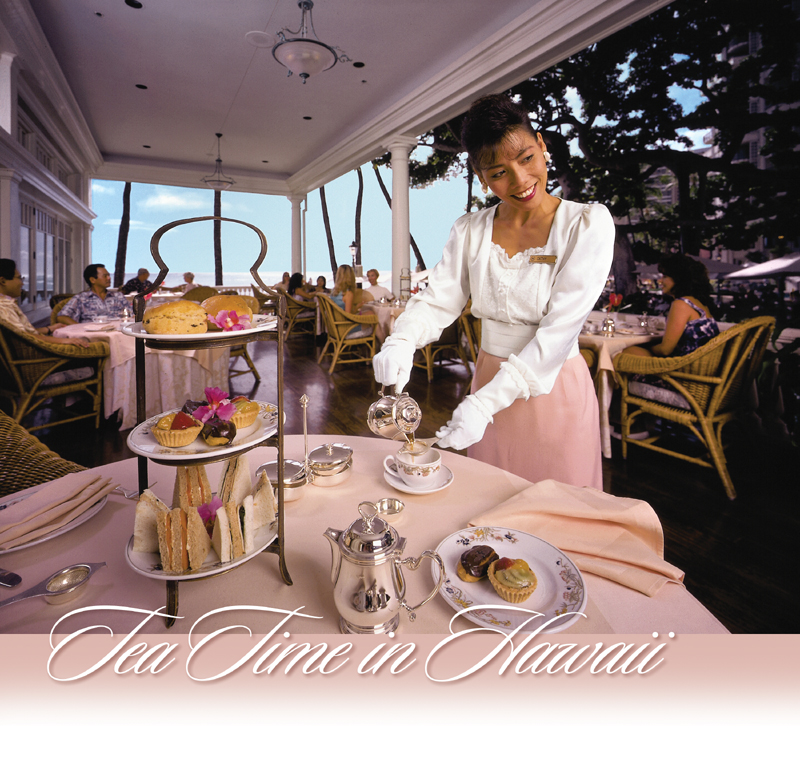 A Synthesis of Civilizations
By Mary young
"Not for all the tea in China."
That expression shows just how important the tea trade once was. In the 18th century, tea, like gold, was a widely traded commodity upon which advanced countries built their far-reaching global economies. Today, in both western and eastern cultures, tea still occupies a special place as the world's most civilized drink. Be it in ancient Japanese tea ceremonies, or taken as a healthful healing brew, or even as served in the royal palaces of England, tea leaves steeped in hot water surpasses even ubiquitous coffee as the beverage of choice for billions.
Here in Hawaii, tea was introduced to residents only as late as the 1880s, although the tradition-bound British served tea in their homes and offices here long before that.
Hawaii's fondness for the British — who recognized the sovereignty of the royal Hawaiian households before others — is evident in the inclusion of the Union Jack in the territorial and state flags. So it should come as no surprise the custom of High Tea, or rather Full Tea as practiced here, is a well-established, Victorian-inspired Hawaiian tradition followed faithfully to this day.
That said, if you're looking for sweet repose on a warm afternoon, hie thee to a tearoom.
What could be more peaceful than sitting on a shaded veranda with a few friends, sipping hot tea and nibbling savory tidbits and scones? Hot tea on a hot day? Why not?
Tea is a cooling drink, according to tea-lover Kimberly Gund of Hawaii Kai. Besides, she added, "Even a warm tea is usually not boiling hot by the time you pour it." Gund ought to know something about tea, as a member of the Red Hat Society – women known for their vitality as well as their flamboyant dress. Gund's Society chapter chose the Sheraton Moana Surfrider's Banyan Veranda for a recent high tea excursion. But Gund is equally fond of Tea at 1024 in downtown Honolulu.
"They're totally different," said Gund. "Tea at 1024 is more intimate and has a lot of little knicky-knacks, you know, teacups and vintage things in the room." The Moana Surfrider is more upscale, but it's worth it. She said, "With the ambience overlooking the ocean, it's just a lovely place to go when you feel like you want to treat yourself."
Oahu tearooms tend to fall into these two categories: the large and elegant, in the style of the Sheraton Moana Surfrider; and the intimate and charming, exemplified by Tea at 1024. Standard to all: the three-tiered tray, laden with scones, clotted cream, the soft music, and the lovely surroundings. The luxury of not being rushed at the table and the gentle delight of discovering the little touches make each visit to a tearoom unique.
Banyan Veranda
Tea time at Banyan Veranda – possibly the queen of Oahu tearooms – has an air of celebration. "We have baby showers, farewell parties, bridal showers and wedding parties," said server June Ancheta. Though most guests are visitors, said Ancheta, island residents frequently book special events on weekend afternoons.
In the shade of the Sheraton Moana Surfrider's historic giant banyan tree, white-gloved servers in maroon and white plantation-style dress glide from table to table and offer teas with names like Silver Needles, Moana Sunset, and Surfrider Serenade. The signature blend, Moana Royale, is flavored with banana, pineapple, mango, and papaya. Sandwich selections range from delicate classics like cucumber and watercress to the heartier sliced ham on focaccia bread.
Tea at 1024
This Victorian gem of a boutique/tearoom reflects owner Michele Henry's talents as a designer. A hat tree near the entrance displays a variety of veiled and feathered hats for tea guests to borrow if they feel so inspired. Before sitting down for tea, each guest chooses a cup from Henry's collection of bone china cups and saucers.
The best table is in the store's front window, in full view of the street. There's just space enough for two fan-shaped wicker chairs and a small table with floral chintz tablecloth. If you're not hungry enough for the full tea service, you can order salad, soup, scones or dessert.
Tea at 1024 offers black and green teas and herbal infusions, plus special blends such as lychee and cinnamon spice. Unique to this shop are homemade lemonade tea and chocolate mint (mint leaves steeped in hot cocoa). Always on the lookout for an interesting new tea, Henry recently started offering Rooibos or African Red tea, which she combines with dried lavender flowers for an especially aromatic brew.
Sandwiches (crustless, of course) dominate the tea tray, and they are a standout. The fillings, classics like chicken curry and egg salad, are absolutely fresh and delicious. The scones – dried current and raisin, on a recent visit – are substantial and crumbly, more like small cakes than biscuits.
The Veranda
The hushed opulence of the Kahala Mandarin Oriental hotel carries through to the hotel's informal Veranda, where tea guests have a choice of sitting outdoors or in a spacious breezeway. The outdoor seating overlooks the hotel's Dolphin Lagoon and out to the ocean; indoors, floor-to-ceiling sweeps of white and green drapery create dramatic effect.
The winners on this tea tray are the melt-in-your-mouth scones. Bite-size savories include tiny rounds of walnut bread topped with chopped Peking duck. Sweets include squares of "opera cake" (like petit fours), triangles of carrot cake, chocolate-dipped macaroons, and miniature fruit tarts. Among the exotic tea blends is Queen Emma's Royal Rose Tea, a black long-leaf tea scented with rose petals that is said to have been a favorite of the queen.
Waioli Tea Room
Tea is not just for little old ladies; a glance around Waioli Tea Room dispels that notion. A young couple in resort wear poses for a photo at their table. University students in jeans and tee- shirts sit nearby. An elegant young woman in a gold and purple pareo, her dark hair swirled in a French roll, sips tea with her companion.
The rambling building, listed on the National Register of Historic Places, has undergone many changes since its 1909 origin as a residential treatment facility for children. Later, the Salvation Army established the tearoom and bakery as a training opportunity for orphans to learn cooking and the art of gracious living. Now, the menu offerings reflect the tearoom's past. "I have all of the old cookbooks in my collection," said owner-manager Brian Jahnke, "And I try to feature different ones from time to time." Homemade guava bread and Waioli tea cake, for example: "Waioli tea cake is like a fruit cake, but instead of candied fruits it has local fruits such as mango, pineapple, and papaya," said Jahnke.
Even on a balmy afternoon, a breeze that rustles the massive fruit trees surrounding the property cools the tables on the front porch.
Janke says he has about 20 varieties of loose teas to choose from, including passion orange and jasmine. The most popular one is a mango-infused iced tea.
Which is an excellent point. Why not order iced tea? And would you please pass the scones?
PHOTO: Banyan Veranda, Sheraton Moana Surfrider Hotel